10+ Instagram Worthy Walt Disney World Photo Walls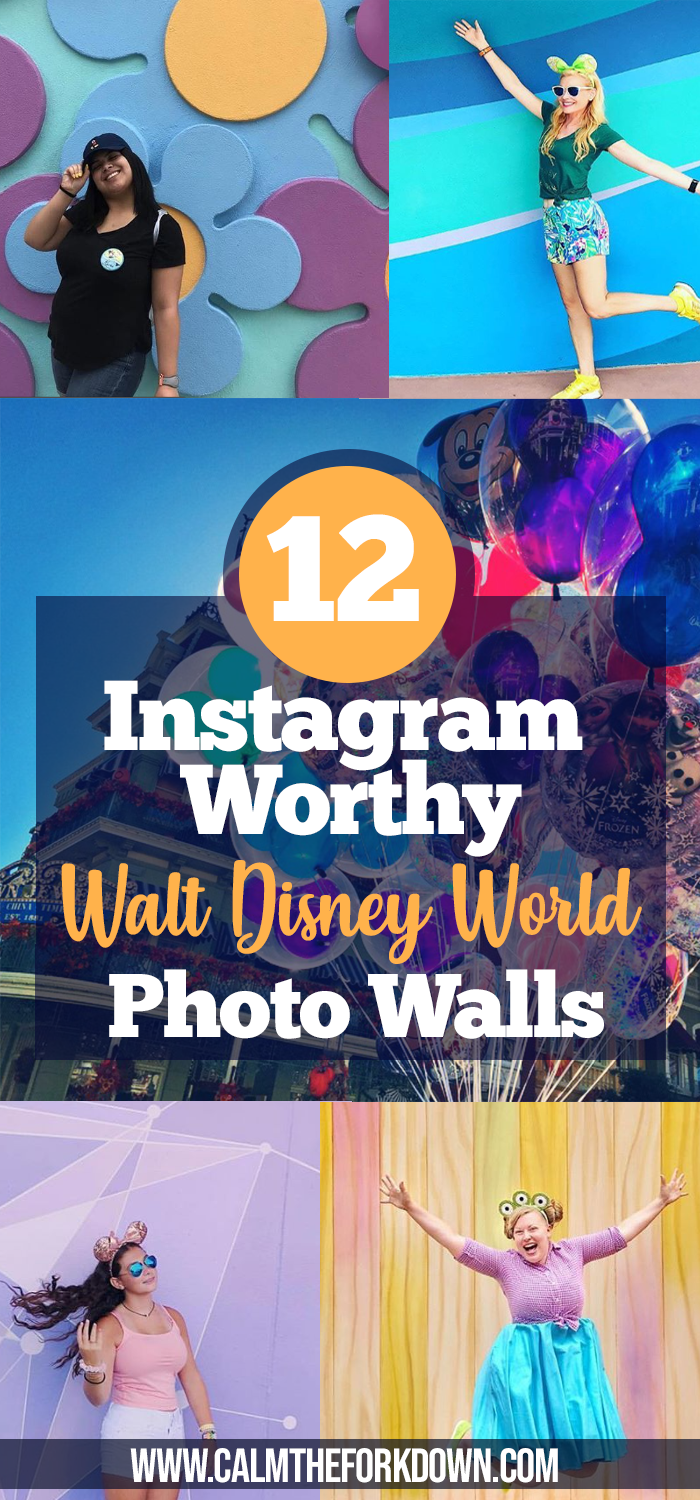 When you think Walt Disney World, I'm sure your first thought is Mickey Mouse, Hollywood Studios and the magical fireworks that light up the sky. Those all make for great instagram worthy pictures, but for your next visit you should check out these popular Instagram Worthy Walt Disney World Photo Walls.
A few of my favorite Disney World Photo Walls…
The Purple Wall
The Purple Wall is located at Magic Kingdom, near Tomorrowland Terrace. As you're crossing the bridge to Tomorrowland, it will be on the right. There are now two versions of this famous photo spot – the original solid purple and a new galactic purple.
IG: @purplewallphotos, @galacticpurplewall
The Popsicle Stick Wall
This wall is located in Andy's Backyard at Hollywood Studios. You will find it in the exit queue for
Toy Story Mania, right across from the checkerboard wall. Bonus points if you also take a picture
at the Luxo Ball!
IG: @thepopsiclestickwall, @toystorylandluxoball, @toystorylandcheckerboardwall
The Bubblegum Wall and The Blueberry Wall
The Bubblegum Wall is located right outside both of the exits of Spaceship Earth at Epcot! The
Blueberry Wall is just a few steps away.
IG: bubblegumwallphotos, @blueberrywallphotos
The Rose Gold Wall
This trendy wall can be found by the entrance to the Mission: Space attraction in Epcot. Be sure
to wear your rose gold ears and rose gold spirit jersey!
IG: @rosegoldwall
Fichwa Fellow/You Are Most Beautiful Walls
Two for the price of one! Both of these walls are located in Harambe Market at Disney's Animal
Kingdom. The Fichwa Fellow is even a hidden Mickey!
IG: @fichwawall, @youaremostbeautifulwall
Toothpaste Wall
Look for this wall as you exit The Seas with Nemo and Friends at Epcot! I wanted to make a joke
about feeling refreshed after finding it, but that just seemed to obvious. See if you can get the
tune of "In The Big Blue World" out of your head after taking pictures here!
IG: @thetoothpastewall
Tangled Wall
Sorry fellas, this one's just for the ladies! The Tangled Wall is located right inside the woman's
restroom in Rapunzel's Tower at Magic Kingdom. The entire area is beautiful, and it's such a
disgrace that it's just a restroom. Make sure you head back to Rapunzel's Tower after the nightly
fireworks for some floating lantern photos!
IG: @tangledwallphotos
Morocco Wall
Yes, this one is ALSO located Epcot. What can I say, Epcot knows the way to an Instagrammer's
heart! The entire Morocco section of the World Showcase is beautiful. The food and drinks are
amazing, and the shops have some lovely trinkets. Head to the back of Morocco, past where
Princess Jasmine meets, and you'll find a beautiful fountain with a tile wall that is absolutely to
DIE for. A trip to Epcot is not complete without a picture here.
IG: @moroccofountains, @visitmoroccowalls
Figment Wall
Yep, this one is also at Epcot! Find this one as you exit Figment's ride, assuming you're not still
wondering how they did that to the butterfly!
IG: @figmentwall
Neon Mickey
The Contemporary Resort is located next to Magic Kingdom. One of my favorite character
buffets is located at Chef Mickey's at the Contemporary. The food may not be the most amazing,
but the characters's costumes are just adorable! After you eat, head over to the Fantasia gift
shop, and you'll find the Neon Mickey wall!
IG: @neonmickeywall
BONUS: Pop Century Flower Walls and Jukebox Wall
Now, I may be biased because I did my College Program here, but I think Pop Century Resort has
one of my FAVORITE walls. Located at Petals Pool Bar are two different flower walls! Both are
vibrant and make you feel like you stepped right into the 1960s. Building two has a giant
Jukebox outside, which is where you'll find the Jukebox Wall! While you're there, head to the
food court and pick up a piece of tie-dye cheesecake! It has red velvet cake for crust!
IG: @popflowerwall, @thepetalpowerwall, @thejukeboxwall
BONUS: Art of Animation Resort
There are a BUNCH of walls here, such as the cotton candy wall and the argyle wall. See how
many you can find! There are also a lot of other photo spots here! You can spend the better part
of a day just taking pictures here. Plus, it's next right door to Pop Century!
IG: @daarlingwalls, @cottoncandywall, @argylewall
What is your favorite Disney World Photo Walls for pictures?