strawberry pretzel dessert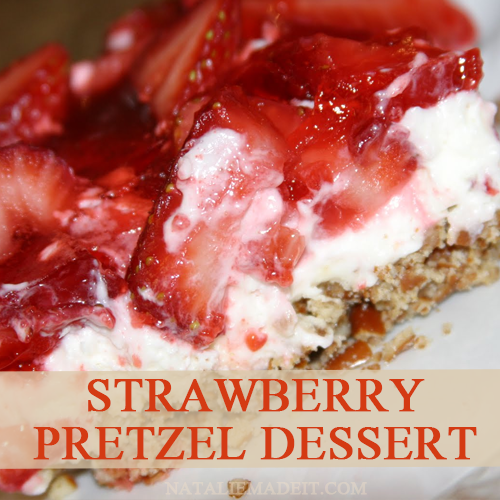 This has to be one of the easiest desserts to make. Trust me, If I make this anyone can.. lol This is a favorite in our family always around Thanksgiving-Christmas time, shoot I make it year round. One year, friends made this and added Vodka instead of Water (like jello shots) except in the dessert, it was AMAZING! Totally recommend this to anyone who loves strawberries!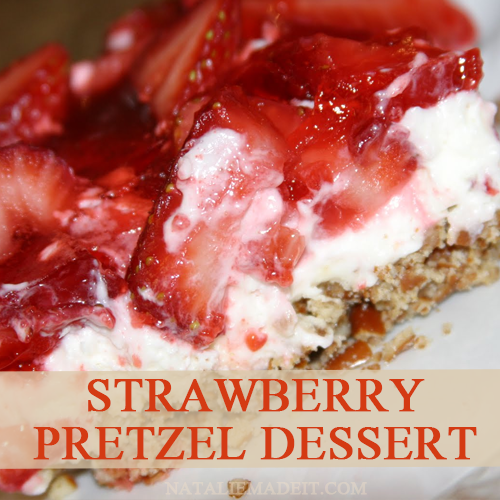 Ingredients
2 cups crushed pretzels (about 8 ounces)
3/4 cup butter, melted
3 tablespoons sugar
FILLING:
2 cups whipped topping
1 package (8 ounces) PHILADELPHIA® Cream Cheese, softened
1 cup sugar
TOPPING:
2 packages (3 ounces each) strawberry gelatin
2 cups boiling water
2 packages (16 ounces each) frozen sweetened sliced strawberries, thawed
Additional whipped topping, optional
Directions
In a bowl, combine the pretzels, butter and sugar. Press into an un-greased 13-in. x 9-in. baking dish. Bake at 350° for 10 minutes. Cool on a wire rack.
For filling, in a small bowl, beat whipped topping, cream cheese and sugar until smooth. Spread over pretzel crust. Refrigerate until chilled.
For topping, dissolve gelatin in boiling water in a large bowl. Stir in strawberries with syrup; chill until partially set. Carefully spoon over filling. Chill for 4-6 hours or until firm. Cut into squares; serve with whipped topping if desired. Yield: 12-16 servings.