60+ Valentines Day Restaurant deals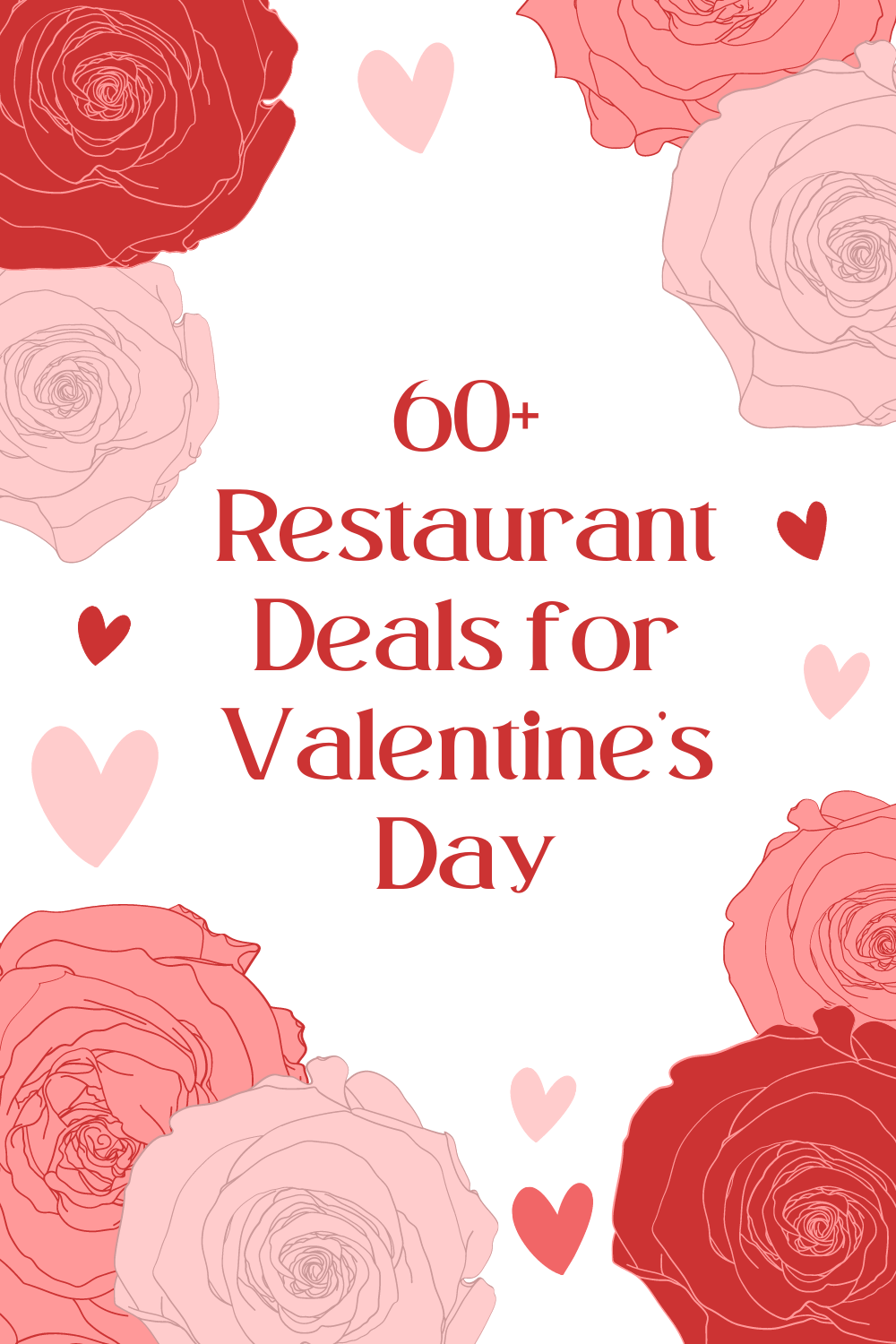 The best way to someone's heart is food, so here's 60+ Valentines Day restaurant deals. Valentines Day is coming up fast on Monday, Feb. 14. Even if you aren't planning to celebrate with flowers, chocolates and all things red, perhaps you will want to take advantage of the food discounts happening.
Below are restaurants with Valentine's Day offers that everyone can enjoy. Make sure you call your local restaurant to confirm that they're honoring these Valentine's Day specials, and keep checking back as more deals are announced!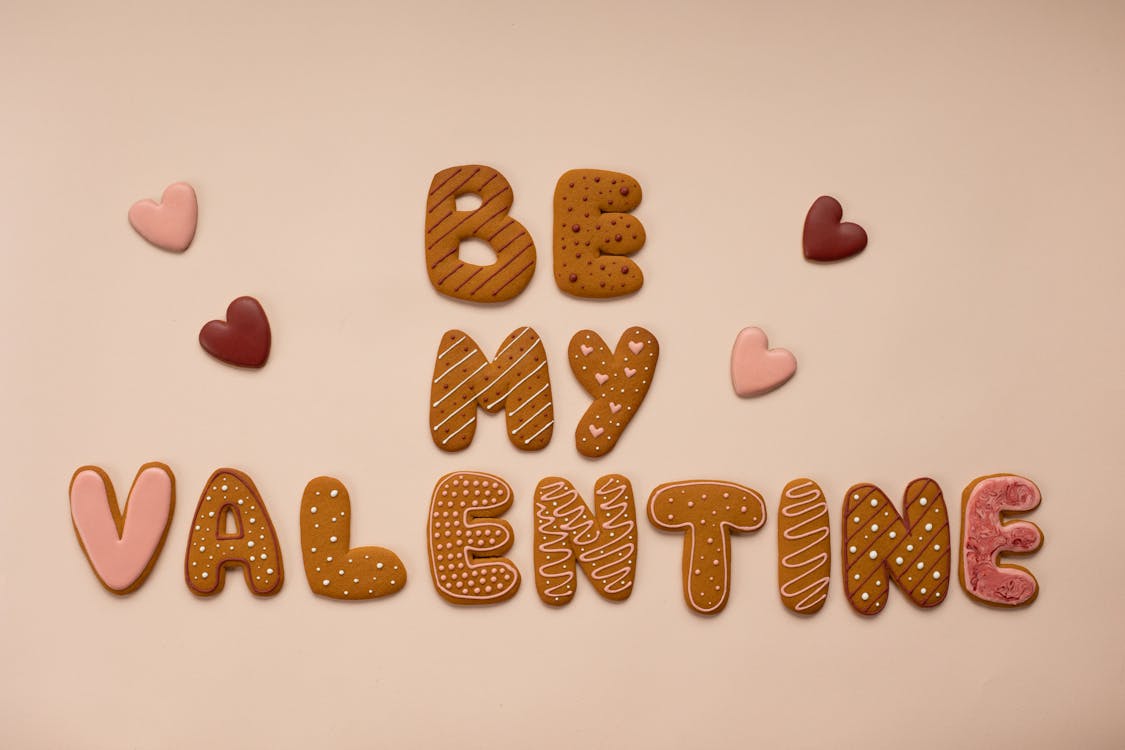 Restaurants Offering Valentines Day Specials and Deals in 2022
This coffee drive-thru is offering flavorful and seasonal drinks that will keep you energized this Valentine's Day! Drive over and try their Cupid Special Mocha with decadent white chocolate mixed with toasted marshmallow flavored coffee. If you are looking to give your peach something a little sweet, try their Love Potion Red Bull – the perfect blend of passionfruit, strawberry and kiwi. Additionally, in honor of 7 Brew's five-year anniversary, the coffee joint will be giving away a year's worth of coffee to one lucky winner on Feb. 14.
From Feb. 8 through Feb, 14, existing Mi Abuelo's rewards members who dine in or order online at abuelos.com or on the app are entered for a chance to win free queso, a free entree, 25 points or $100 off your next visit. Plus, from Feb. 4 through Feb. 10, enter Abuelo's Share the Love Contest on Instagram or Facebook for a chance to win one $100 off reward and one reservation dinner for two with a complimentary dinner up to $100 on February 14th. One winner will be randomly selected on Feb. 11 from the combined entries.
Auntie Anne's is celebrating "knotty love" this Valentine's Day by rewarding Pretzel Perks loyalty members with a "buy one, get one free Chocolate Frost" frozen beverage on Monday, Feb. 14 when they order in-store or online using the app. Pair with a pretzel or two for a sweet and salt-ry celebration with your loved one!
This chain has a whole line of holiday-themed sweets, including punny cakes to enjoy.
Last year, the casual create-your-own stir-fry grill was offering its red deep-fried Oreos served with hot fudge for $5 between Feb. 10 and 15. Let's hope this deal comes back!
Whether you are planning a romantic Valentine's dinner for two or would like a full three-course meal that serves up to six, you can order any of your Bob Evans favorites online for delivery or curbside pickup on Feb 14. Plus, if you're unable to be with your loved ones for Valentine's Day, you can still share a comforting meal.
Have a Homestyle Hug delivered to those you care about on Feb 14. They're also offering a Valentine's Day breakfast that includes coffee, hotcakes, Farm Famous breakfast meats and more.
Bonefish Grill is celebrating love with a perfectly paired entrée with a twist: a scallop and shrimp scampi filet featuring a 7-ounce wood-grilled filet mignon, topped with tender bay scallops and shrimp that's tossed in a garlic scampi sauce and finished with fresh tomatoes. Available for dine-in, car-side carryout and delivery for $32.90, guests take indulge on this dish from Thursday, Feb. 3 to Wednesday, Feb. 16.
Boston Market is offering fresh rotisserie chicken including delicious sides to enjoy on Valentine's Day. Even better, join their Rotisserie Rewards program to earn points and get a free individual meal with a $10+ purchase.
Last year, the bagel joint offered heart-shaped bagels! Bakeries accepted preorders at participating locations beginning Feb. 3, and the heart bagels were available in blueberry, plain and cinnamon raisin varieties from Feb. 10 to 14. Hoping they bring it back this year!
Buffalo's Express and Fatburger: In 2021, all domestic orders placed at co-branded Fatburger and Buffalo's Express locations received a six-piece order of chick'n vings, made with Quorn vegetarian meatless wings, with any purchase. They will offer a similar deal this year — check back for the details!
From now through Feb. 14, California Pizza Kitchen is offering a Sweet Deal for Two dine-in promotion. Choose from the Classic or Adventure packages to enjoy one appetizer, two entrées and one dessert! Make Valentine's Day extra special with their heart-shaped crispy thin crust pizzas. Plus, receive a Bonus Card for your next visit when you purchase a Sweet Deal Package.
What a great time to check out Joe Biden's favorite sandwich shop! Stop in on Valentine's Day and get a free treat via their app. Hey, you might even run into the president himself!
Prepared with love and perfect to share, Carrabba's Italian Grill is celebrating Valentine's Day with a four-course dinner for two! Featuring hand-crafted Italian available in the restaurant, delivery and carryout, guests will enjoy the following selections for $60 from Thursday, Feb. 10 – Monday, Feb. 21, along with a chance to try their newest cocktail – the Strawberry Rosè Margarita.
For past Valentine's Days, Chick-fil-A has offered 30-count nuggets and 10-count chick-n-minis on trays in the shape of a heart. These special trays were only be available at participating restaurants, so please check with your local restaurant to confirm.
Enjoy two large one-topping pizzas for $5.99 each through Feb. 27. Plus, get their Ultimate Feast starting at $18.99, which includes one Ultimate Giant pepperoni pizza and a choice of cheesy bread or cinnamon rolls.
Feb 14, Cinnabon is offering a special Fantasy Sweet Bundle for "Bachelor" fans, which includes two Classic Rolls and two Cinnamon Roll flavored Cold Brew Iced Coffees, starting at $15. Fans can get the bundle delivered straight to their door, or they can pick up their treats at participating bakeries without waiting in line by ordering through the Cinnabon app or Cinnabon.com.
From Feb. 1-14, the brand is also offering free delivery on all $15+ orders placed on the Cinnabon app or website and free delivery on first-time $15+ orders on DoorDash. Plus, treat both yourself and your loved one by sending delicious Cinnabon rolls and sweets via Harry & David for a very delicious Valentine's Day.
From Feb. 11 to 14, Corner Bakery eClub and Loyalty members can stop by their preferred location to indulge in the neighborhood bakery's buy one entrée, get one free Valentine's Day special.
---
---
This breakfast restaurant is celebrating with a unique deal at their Las Vegas location. You can get married at Denny's for $99, and it includes the ceremony fee, a silk presentation bouquet and boutonniere, a champagne toast and a ceremony certificate. Love is in the air!
Last year on Valentine's Day, you could order two meat plates for only $24. They had options like authentic slow-smoked meats, two savory sides and a buttery roll. We shall see if they bring this deal back in 2022!
This alcohol delivery service is offering a deal for Valentine's Day. New users get $5 off and free delivery when they use the promo code VDAY2022. Cheers!
Their new Valentine's Day lineup will officially hit restaurants on Feb. 2 this year and will include two classic donuts: Brownie Batter and Cupid's Choice. We can't wait!
Customers can earn points, redeem rewards and get free food when they join their Shmear Society Rewards Program. Right now, you can get a free bagel and shmear and a free drip coffee when you place an order through the app.
Enjoy an all-inclusive Valentine's Day experience complete with a three-course dinner for two. Which features a 35-ounce prime Tomahawk with lobster tail scampi and crab-stuffed shrimp.
This is available from 11 am on Saturday, Feb 12 and Sunday, Feb 13 for Valentine's Day weekend, and 3 pm on Valentine's Day, Monday, Feb 14. To make a reservation, email [email protected] and a reservation specialist will arrange all details.
You can also order and enjoy one of their three-course Valentine's Day Menus at home and add more love with their Celebration Wine Box for $75, which includes the following:
A bottle of FPS by B.R. Cohn, Cabernet Sauvignon, California
A bottle of Mionetto, Avantgarde Prosecco, Treviso, Italy, NV
A box of truffles
Tasting cards
Two Riedel wine glasses for future pours to come
Internationally-renowned steakhouse, Fogo de Chão, is spreading love this Valentine's Day with delicious offerings available at restaurants nationwide.
Guests can pick-up and enjoy a romantic evening at-home with Fogo's Valentine's Day To-Go, which serves two and includes ready-to-grill premium cuts, a choice of two sides (Mash Potatoes, Sautéed Asparagus and/or Pão de Queijo) and selection of two desserts (Cheesecake, Chocolate Brigadiero and/or Tres Leches Cake) to share.
Additionally, guests can elevate and complete their at-home V-Day experience by adding a bottle of Fogo's exclusive Trilogy Wine selection to their to-go package. To-go packages for pick-up or delivery are available from Feb. 11 to Feb. 14.
On Valentine's Day, Golden Corral will be offering a legendary, endless buffet at breakfast, lunch and dinner. Indulge yourself with their endless buffet of delicious comfort food classics such as fried chicken, meatloaf, pot roast and carved sirloin. Whether you go for traditional meat-starch-veggies, dessert-first or a plate of all the sides, you can create your own unique and perfect plate.
For Feb. 14, customers across the country can get all their Valentines Day essentials delivered for their loved ones in about 30 minutes. There's a variety of bundles to choose from, and everything will be available on their in-app Valentine's Day shop.
Their 2022 Valentine's Day menu features special, limited-time offerings including new bites and delicious drinks. Visit their website to reserve your spot.
Now here's something different. Last year, Hooter's was offering the option to bring a photo of your ex to the restaurant to shred. They had shredders provided at participating Hooters restaurants, or customers have the option to do it virtually at ShredYourEx.Hooters.com.
They were rewarded with satisfaction and a buy one, get one deal for 10-piece boneless wings. Customers participating online received a digital coupon for the deal. They may bring this awesome event back!
Pizza is all you need this Valentine's Day! Last year, Hungry Howie's offered a heart-shaped pizza with your choice of one topping for $6.99. The offer was only available at participating locations on Feb. 13 and 14. I hope they bring this special pie back!
In the mood for something sweet? Insomnia Cookies will be launching their V-Day Collection with an All-Red Velvet Lineup on Jan. 25. From Classic, Vegan, Mini and Deluxe Filled Red Velvet cookies to Galentine's Day gift packs and a collaboration with Fancy Sprinkles, there's no better way to say 'I love you' than with a warm, velvety treat.
Order via the Jack app and get 20% off your purchase on Valentine's Day.
Jamba (formerly Jamba Juice)
They are offering treats for the two of you! Jamba Rewards members can enjoy $2 off two smoothies, juices and bowls this Valentine's Day.
Last year, guests could receive two burgers, two shakes and one starter for just $30. Additionally, Johnny Rockets held a photo contest on Instagram, where participants who posted a selfie with a Johnny Rockets shake and use the hashtag #ShakesMates were entered to win free shakes for a year. Hope the fun continues this year!
Kona Grill is offering "KRAVEABLE" Valentine's Day Specials from Feb. 11 to Feb. 14, along with your Favorite Kona Grill Signature Surf & Turfs, Steaks, Sushi Rolls, Margaritas and more. Make your reservation for Valentine's Day Weekend Brunch, Valentine's Day Dinner or get ready to plan your romantic at home dinner with Kona Grill takeout and delivery.
You can order some adorable (and yummy!) special donuts with a sweet message on Valentine's Day.
Visit Logan's Roadhouse to enjoy their special Valentine's Day menu. Order from a selection of made-from-scratch loaded potato skins, spinach & artichoke dip, deviled eggs, prime rib (available Feb. 11 to 14), wood-grilled favorites, special sides, desserts, a selection of wines and three festive cocktails. Wow!
In 2021, this iconic restaurant offered a heart-shaped pizza package that you could purchase on Amazon! It included one pizza and one round sausage, and you could simply reheat both before enjoying. Let's see if they bring back this romantic dish!
Last year, you could check out the "That's Amore!" dinner-for-two menu from Feb. 7 to 16. The special three-course prix fixe menu offered a choice of any starter or two side salads, two entrées and dessert for $80. We heard they're having a similar menu again this year!
We love a heart-shaped pizza! In 2021, Marco's was offering a one-topping heart-shaped pizza for just $10.99. How romantic!
McDonald's is celebrating Galentine's Day with their Calling All Besties promo. Get any two Big Mac, Quarter Pounder with Cheese, 10 piece Chicken McNuggets or Filet-O-Fish for just $6 when you order in the app. This deal has "share with your best friend" written all over it!
The Valentine's Day experience at the Melting Pot includes an evening of fondue favorites like hand crafted cheese fondue, decadent chocolate fondue, signature drinks and more. Plus, celebrate Galentine's Day by spending quality time with the ladies you love with Melting Pot's Best Fondue Friends Forever (BFFF) menu, available Monday through Wednesday, which includes fantastic cocktails, craveable cheese and chocolate fondues.
Can't make it work on Feb. 14? Celebrate love on Thursdays with Thursdate and enjoy a four-course meal that features fondue favorites — all served on a table covered in rose petals and candles to set the mood. All available to-go!
This year, to celebrate Valentine's Day, Metro Diner's brunch menu will be available all day, all weekend long. The menu is also available for curbside pickup or contactless devilry. Plus, you can grab your brunch crew and order up a round of $2.99 mimosas or bloody mary's to cheers with good friends.
Plus, Metro Diner is offering new seasonal Red Velvet offerings available for dine in, curbside pick-up or delivery starting Feb.1, including:
Red Velvet Bread Pudding: A homemade, warm strawberry and red velvet-infused Bread Pudding, drizzled with melted cream cheese icing and topped with a cobbler crumble and fresh strawberries.
Red Velvet Waffle: Metro Diner's signature Belgian waffle infused with red velvet, drizzled with melted cream cheese icing and topped with a cobbler crumble and fresh strawberries.
Red Velvet Pancake: Two pancakes infused with red velvet, drizzled with melted cream cheese icing and topped with a cobbler crumble and fresh strawberries.
For Valentine's Day last year, Moe's was giving out surprise rewards to customers, ranging from a free cup of queso to a free burrito. To enter, you just had to be a Moe Rewards member and make a with qualifying online order of $20+.
Right now until Valentine's Day, Mrs. Fields is offering their signature cookies and gifts to share with your loved ones. You can even get them delivered! To have your valentine cookies delivered by Feb. 14, place your order at least two weeks in advance. If you'd prefer to pick up your order in-store, find your nearest Mrs. Fields retail location here.
Sign up for the Nékter Juice Bar Loyalty app and receive a free juice or smoothie to enjoy on Valentine's Day.
The first 100% plant-based burger joint known for serving up the classics, is debuting its Valentine's Day Love Shake on Friday, Feb. 4. Available through Valentine's Day, the raspberry champagne-flavored shake will feature NLB's house-made organic soy or coconut soft serve ice cream hand-spun with organic raspberries. Available for pick-up or delivery.
There's many specials going on that you can enjoy on Valentines Day this year. You can get family-style meals, $5 take home entrées, wine to-go starting at $15 and lunch-sized favorites starting at $7.99.
Heart-shaped pizza is the perfect way to celebrate Valentine's Day! Nothing says "I love you, but I'm not cooking tonight" like a heart-shaped pizza, so pick up a one-topping for just $11. It arrives unsliced, in all its glory!
Through Feb. 14, customers can order a HeartBaker pizza from $9 to $11, depending on the restaurant location. They also have great desserts to end your meal!
From Feb. 11 to 14, you can enjoy Perry's Valentine Candlelight Dinner for two. For $175 per couple or $125 for to-go orders, this special menu includes two individual salads, 12-ounce Candlelight Filet Roast (prepared medium) for two with two steamed lobster tails and sauces, two sides for two, homemade bread, a half-dozen chocolate-dipped strawberry kisses, rose petals and a votive candle with holder. How romantic!
In honor of Valentine's Day, Galentine's Day and Singles Awareness Day in the past, Pieology has offered a Sweetheart Bundle deal on its signature pizzas and cookies for $22. This deal was only available at participating locations.
More heart-shaped pizza! The Hut usually has them starting at $11.99 for one pie. They haven't announced the deal this year, but hopefully it will continue.
Known for its legendary cake shake that combines an entire slice of its iconic chocolate cake with a thick milkshake, Portillo's invites guests to spread the love this Valentine's Day with a limited edition Chocolate Strawberry Cake Shake. Made with real strawberries and an entire slice of chocolate cake, this is the perfect way to show that special someone just how much they mean to you this Valentine's Day.
Quiznos Toasty Points in the U.S. members could get an 8-inch lobster sub for only $5 from Feb. 14 to 20 last year. No promo code was needed to enjoy this deal.
Red Lobster is giving customers many options for a delicious Valentine's Day dinner. You can get three of their plates from the sea for just $15.99, discover their new menu of your choice of 15 dishes under $20, try their new handcrafted sandwiches and new family deals starting at just $7.99 per person.
Last year, Rose Mexicano offered a menu of Valentine's Day dinner specials. Hopefully you can treat your date again this year!
Treat your someone special to a night out with an elevated, prix fixe experience at Ruth's Chris Steakhouse. Enjoy world-class hospitality and service with a special romantic meal for two, available all week from Feb 11 to Feb 20.
Enjoy their Tenderloin for Two meal, which includes two starters (Steak House Salad, Caesar Salad or Shrimp Cocktail), entrées for two (Roasted Chateaubriand – hand-carved 22oz roasted tenderloin with cognac sauce), personal sides (Garlic Mashed Potatoes and Creamed Spinach) and dessert (Chocolate Sin Cake) for $150.
Ruth's Chris is also offering a Raspberry Rosemary Cosmo – a seasonal hand-crafted cocktail featuring Effen raspberry vodka, fresh raspberries and aromatic rosemary.
Last year they were offering the Lovebirds Valentine's Day combo box ($35), which was available for delivery and included some of their favorites.
Love should last longer than just one day, which is why STK Steakhouse is offering Valentine's Day Specials all weekend long (Friday, Feb. 11 through Monday, Feb. 14, 2022), along with your Favorite STK Steakhouse Signature Steaks and more. Make your reservation for Valentine's Day Weekend Brunch, Valentine's Day Dinner or get ready to plan your romantic at home dinner with STK takeout and delivery.
This Valentine's Day weekend, The Capital Grille is offering a menu of classic and contemporary wine-friendly cuisine, butcher boxes to go and world-class wines.
Last Valentine's Day, TCBY was celebrating with an exciting BOGO offer. They had special Valentine's Day flavors, such as soft-serve Chocolate Covered Strawberry Swirl and hand-scooped Strawberry & Cream.
If you went to a Tim Horton's last Valentine's Day, you could score a free heart-shaped doughnut when you bought any beverage, starting at 2 p.m. until close at participating locations. Yummy!
During the month of February, you can enjoy a pre-Valentine's brunch on Saturday and Sunday from 11 a.m. to 2 p.m., featuring corn flake fried chicken and waffles, truffle pastrami hash and more.
Starting on Feb. 10, you can choose any two Neapolitan slices, made fresh daily with their signature tomato sauce and dough.
For the first time, couples won't be able to make a Valentine's Day reservation at White Castle, but the fast-food chain is still spreading the love with a special menu deal. They're offering their Love Cube meal for two (pictured above), which includes eight sliders with cheese, two small soft drinks and a choice of two shareable sides. The Love Cube meal will only be available on Feb. 14 for takeout or delivery and will cost you $14.99.
Want more Valentines Day Restaurant Deals? Click here.
deal finder: Shannon Dwyer from The Real Deal