A Simple Sweet & Salty Dip For Any Potluck with Chobani Yogurt
We had a potluck at work on Friday – we have monthly potlucks. I normally don't bring anything, but this week was National People Week at McDonalds. Where they take a week to thank the crew & managers, which is kinda cool. So I could of just went to the store and grabbed something, but I like coming up with fun healthy ideas. So I decided to make a cookie dip & ranch dip using Chobani yogurt.
Since I work 3 jobs currently, I needed something quick and easy to put together for work. Being that I work in fast food, healthy food is always nice. Because let's face it, the food isn't good for you there. When I walked in with the trays, everyone got excited. As soon as I got the lids off, they went crazy. Half of the veggie tray was gone within the first hour.
I used a variety of of vegetables for the veggie tray – cucumbers, orange & red bell peppers, cherry tomatoes, broccoli & baby carrots. The cookie dip tray I used animal crackers, pretzels and apples. If we're being honest it's so amazing, you could just eat it by itself. I may or may not of done that myself after I got home from work, it was even more whipped the second time around.
I buy the larger 32-ounce container of  non-fat plain yogurt, because that was more than enough for both trays. I love that this yogurt is all natural, high in protein, low in fat and has no artificial flavors or sweeteners.
Ingredients for Cookie Dip 
5 tablespoons of butter, softened
2 ounces of cream cheese, softened
¼ cup flour
½ cup powdered sugar
½ teaspoon vanilla extract
½ cup holiday sprinkles, divided use
Mix butter, cream cheese and sugar into mixing bowl, beat for 2 minutes until fluffy. Then add the flour and vanilla extract and beat for another minute. Add the yogurt, ¼ cup at a time and mix on low to combine. Lastly stir in the sprinkles which is optional.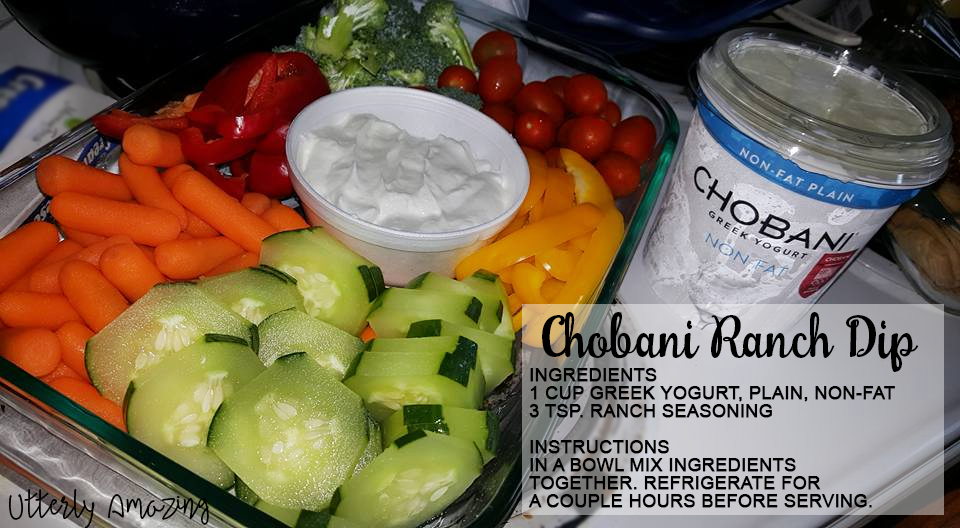 Chobani Yogurt Ranch Dip
Then in a bowl mix ingredients together. Refrigerate for a couple hours before serving. It's that simple.
When the GM came into work – we got him to tray the cookie dip. He was like, "That's amazing…" When the high school kids came in for second shift, they were all, "can I keep the rest of this (the dip)?" I was like sure, lol. I'm glad it was a hit, they want more now.
The ideas for dips using Chobani yogurt are completely endless. You can check out more amazing recipes on Chobani's website. You can follow them at Facebook, Instagram, Twitter & Pinterest.