Reach Your Summer Fitness Goals With These 7 Items!
Need some inspiration to reach your summer fitness goals? We've got you covered with all the basics – from hydrating beverages and protein packed meals to healthy snacks, portion-controlled desserts and even weight loss supplements! See below for the best foods and drinks to help you achieve your goal without sacrificing the flavor you love.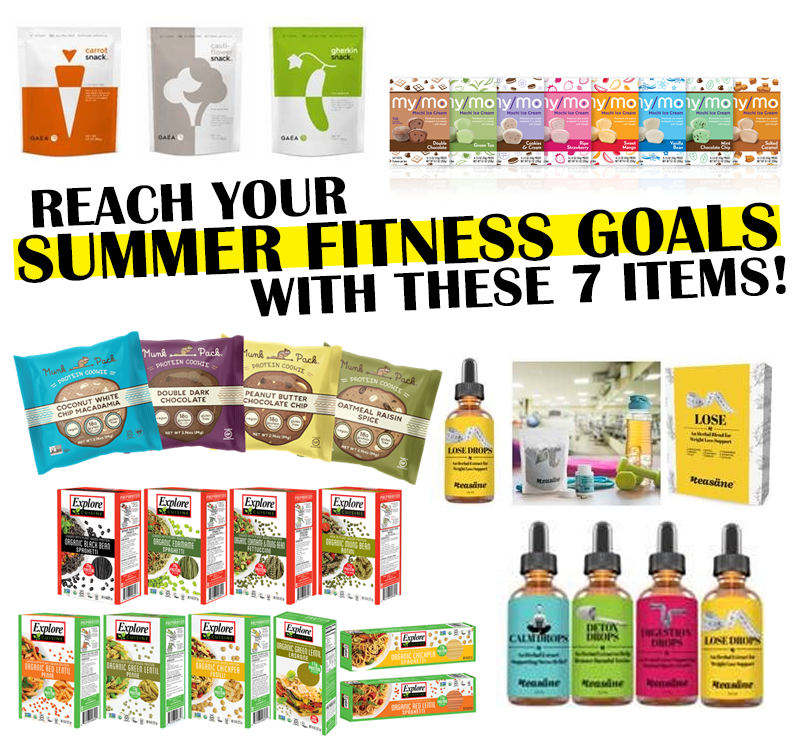 Sparkling Ice An excellent soda alternative, Sparkling Ice is slightly carbonated with B-Vitamins, Vitamin D and antioxidants. This light and refreshing beverage contains Zero Calories, Zero Carbs, is Gluten Free, and Sodium Free. Pick a flavor from the 20+ different delicious options including a line of Teas, Lemonades and 8oz Slim Cans, to enjoy in your favorite cocktails or as a refreshing snack. ($1.19-$1.29/bottle, available in retailers nationwide)
Explore Cuisine Pulse and Bean Pastas Take the guilt out of your favorite pasta meals with Explore Cuisine! Explore Cuisine integrates beans, peas, lentils, and rice to provide you with nourishing meals which are easy, quick, colorful, and simply delicious! All Explore Cuisine products are vegan, gluten-free, non-GMO and jam packed with nutrients. ($4.99 at www.explorecuisine.com and retailers nationwide)
Gaea Veggie Snacks Get your summer body ready with a delicious, all natural snack. Gaea's line of Veggie Snacks are the first shelf-stable on-the-go vegetable snacks on the market. Building on the healthy snacking trend and popularity of Gaea's Olive Snack Packs, the Veggie Snacks are designed with convenience in mind and made with all natural ingredients and zero preservatives, and all three varieties are also vegan and gluten free. The perfect choice for healthy snacking, Gaea Veggie Snacks feature a handy re-sealable package, without liquid, allowing the convenience of snacking now and later. Available in three varieties: Carrot, Cauliflower and Gherkin. MSRP: $2.99/ 2.8 oz, www.gaeaolive.com
Munk Pack Protein Cookies Munk Pack's Protein Cookies feature 18G of plant-based protein per cookie from nut butters and grains! In flavors like Double Dark Chocolate and Oatmeal Raisin Spice, these vegan, non-GMO and gluten free cookies are soft baked and fueled with 6G of fiber per cookie.
My/Mo Mochi Ice Cream It's all about moderation and at just 110 calories each My/Mo Mochi Ice Cream is the perfect, portion-controlled snack to indulge in this summer. Made with a delicious ball of premium ice cream, wrapped in sweet rice mochi dough, these colorful treats are an easy grab and go option snack to help you cool down this season. The 6-pack boxes are available nationwide in seven flavor varieties (think: all of your favorite flavors like mint chip, strawberry and cookies & cream!)
Teasäne's Herbal Extracts Concentrated tea drops infused with all the powerful health benefits of natural herbs. Available in four functional varietals – Detox, Calm, Lose and Digestion – these tiny drops pack a big punch! Just a few drops of Teasäne's Herbal Extracts turns any cup of hot or cold water into a cup natural goodness. SRP: $29.99
28-Day Lose Kit This 28-day regimen is a unique combination of the Lose tea and a Seaweed complex. The Seaweed Complex naturally enhances each herb's function, creating an effective 28-day plan. SRP: $58.95 // 1 Month Supply
What are some of your summer fitness goals?