5 Small Space Bedroom Stoage Ideas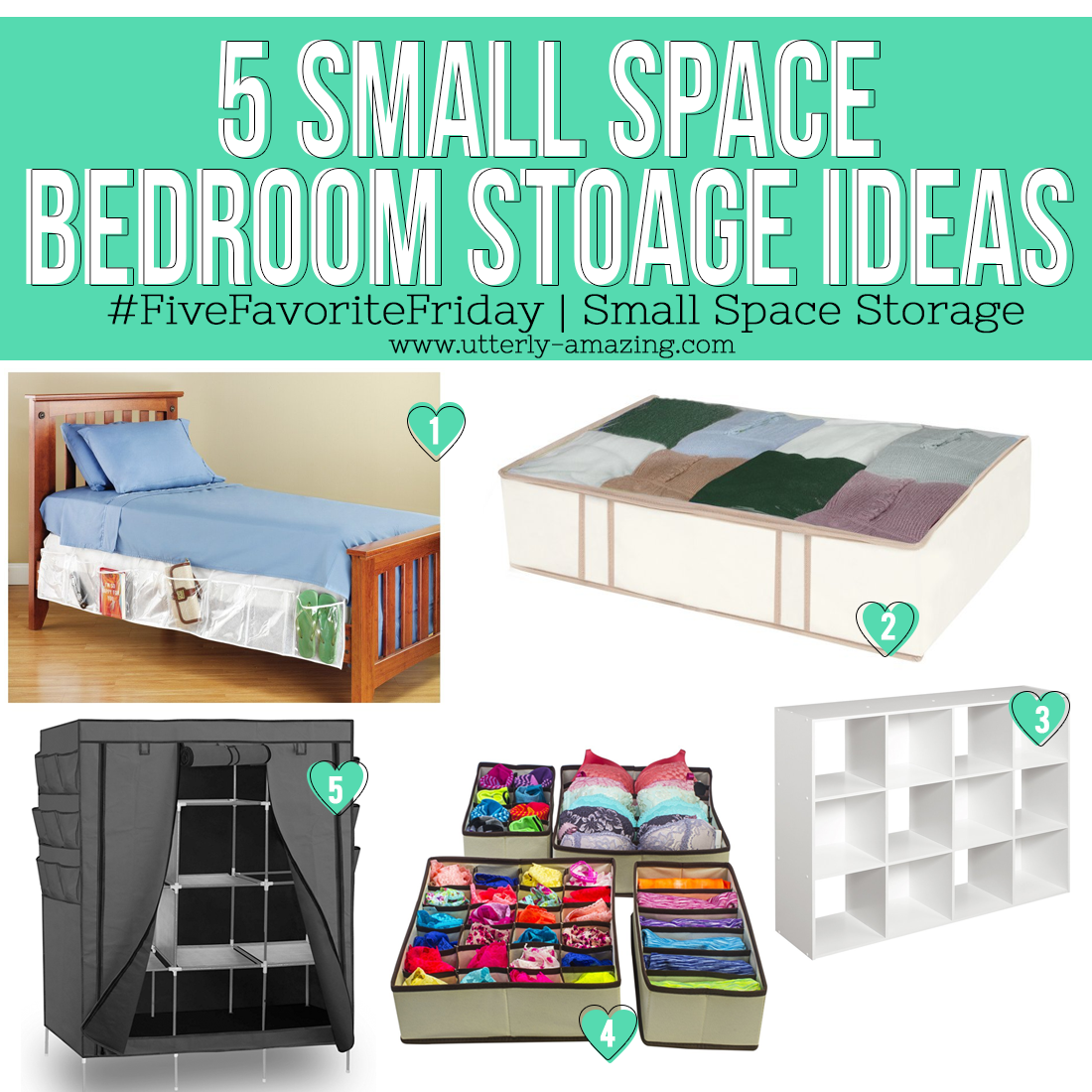 Living in a small space, I want to share a few of my favorite bedroom storage ideas with ya'll today. Currently my daughter, Hailey & I are sharing a room we're renting out, until something better comes along. So we're re modeling the room to make it a functioning space for two people. Make it more like a "dorm" feel, give or take.
It's a pretty small space, it's a 10×10 space. Here are five small space bedroom storage ideas from Amazon. These work for dorms, kid's rooms or just small bedrooms. I already bought all 5 of these items to help make the best of the small space we got.

16-Pocket Bedskirt Storage Organizer | $14.45
Organize all your bedside essentials in one convenient location. Never lose the remote again; thoughtful, frustration-free storage to make life easier. 16 clear pockets conveniently store electronics, books, magazines and more. ONE SIZE FITS ALL; unique, patented design fully adjusts to fit every bed size- twin, full, queen, or king. Use for more than just bedside basics; store toys, linens, seasonal accessories, even school supplies.
Pro-Mart DAZZ Underbed Storage Bag | $10.99
A great space maximizer perfect for keeping extra linens, blankets, and clothing out of sight and tucked under the bed. 100 percent natural American aromatic cedar repels moths, mildew and mustiness. Fits perfectly under bed, slides out with the convenience of easy pull handles. Zipper closure with clear vinyl window for easy viewing and easier organizing. Features eco-friendly heavy duty VentilAir cotton canvas that allows items air flow keeping them fresher.

12-Cube Organizer | $59.00
Eliminate clutter and maximize space with 12 cube openings that offer many storage possibilities. Includes 6 individual back panels. Create storage and display space for any living area in the home. Placement flexibility as vertical or horizontal. Easy to assemble. Sprinkle in color with Cubeicals Fabric Drawers. Inside Dimensions of 1 Cube: 11.25 in.H x 11.25 in. W x 11.75 in. D.
Sorbus® Set of 4 Foldable Drawer Dividers | $10.99 
Provides attractive, lightweight solution to many personal storage needs. Neatly store and classify underwear, socks, neck ties, bra, etc. 4 multi-sectional organizer bins that can be used for a variety of clothing, undergarments, and personal items. Organizers for drawers, dressers, closets, and more. Bins are collapsible for easy storage and can be stored under bed for most convenient use.
Portable Storage Organizer Wardrobe Closet & Shoe Rack | $28.95
Durable and sturdy steel frame that can take on significant weight without bending. Portable and Customizable design that gives you unlimited flexibility. Ample room of 15 cubic feet and breathable fabric for proper storage. Simple assembly that doesn't require any tools, nails or screws. Lifetime guarantee giving you absolutely nothing to lose.
What are your favorite bedroom storage ideas?