9 Feminine & Pampered Monthly Period Subscription Boxes
Feel feminine and pampered all month long ― not just on your period. Period subscription boxes are all the craze right now. All of these awesome period boxes range from products of pads/tampons, liners, feminine hygiene cleansing cloths, an extra awesome bonus goodies. Don't Let Another Period Cramp Your Style with these 9 feminine and pampered monthly period subscription boxes.
HersDay Box

HersDay pads dry in a split of a second, no more dampness whenever you use a pad. If you ever have to go out on a long day you don't have to worry about switching pads. A piece of the profits from each box goes to the Foundation for Woman's Cancer. You pick your flow from light, medium or high flow to choose what items you will receive.
What's Inside: There's 3 different sizes of boxes light, medium and high flow. You get a range of liners, day pads & night pads depending on which flow you choose.
Price / Deal : $4.99/month – Currently taking pre-orders, any orders made before this date will only be shipped on 15th of August, for pre-orders we provide users with the price of $4.99 instead of $12.99.
HappyGal Monthly
There are 7 options available for your monthly subscription. Each box is customized to your preferences. You choose the combination of feminine hygiene products, as well as your favorite brands and sizes. Please read each description carefully and choose the package that best suits you. All packages have a survey that you will fill out during checkout that will help us to pick customized items for your box.
What's Inside: pads/tampons, liners, feminine hygiene cleansing cloths, an extra large sweet treat bag, and 2-3 surprise beauty gifts.
Price / Deal: $9.99-$35.99/month – Use code HAPPYGAL10 at checkout to 10% off your first order.
Teen & Adult Dot Boxx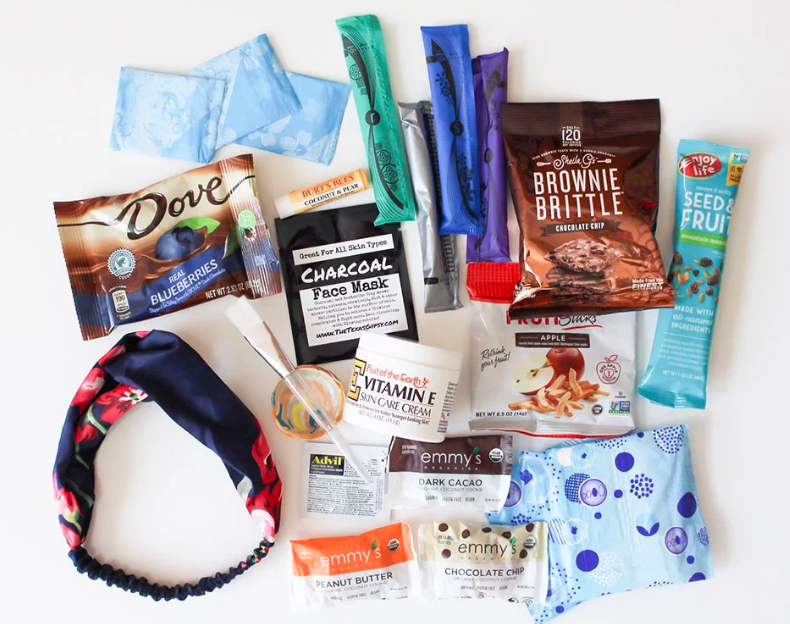 Dot Boxx is a period subscription box owned, operated & curated by women, so we totally get that periods are not one size fits all. Mix-and-match 70+ period essentials and absorbencies ― including organic, Tampax, Tampax Sport, Playtex, Playtex Sport, Kotex, Kotex Fitness, Always, Always Infinity, and Stayfree ― delivered on your schedule, not ours. A portion of all Adult Dot Boxx sales are donated to a female-focused cause, so you give and receive… isn't that AWESOME!
What's inside: Receive pads and/or tampons, up to 4 hand-picked products, chocolate-inspired snacks; PLUS optional tea, liners, disposable heat pad & feminine wipes delivered on your schedule, not ours!
Price / Deal: Teen $30.99/month | Adult $34.99/month –
The PMS Package
A monthly care package of feminine essentials, comfort snacks, and delightful surprises to ease PMS symptoms — synced to deliver on your cycle date. Every package is filled with unique items to fulfill your cravings, feminine care, and pampering needs that will help you feel better and lift your spirits.
What's inside: 5 craveable snacks, 2-3 feminine essentials & 2-3 pampering or beauty items.
Price / Deal: $34.99/month
The Pink Parcel
The UK's No 1 Period Subscription box comes to the US! With period essentials, lush treats as well as a curation of cult products delivered monthly.
What's Inside: Night pads, Liners and Pampering products worth up to $40.
Price / Deal: $19.99/month
Bonjour Jolie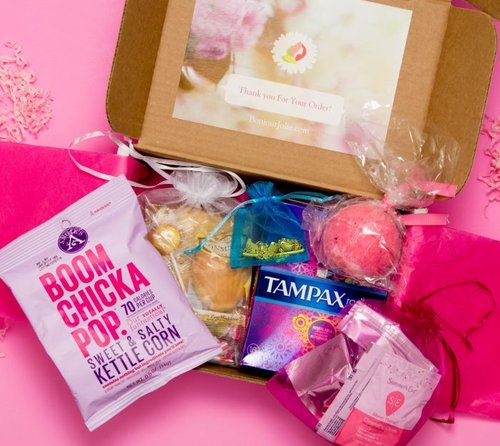 A premium monthly subscription box designed exclusively for women to be pampered on their period. Each box contains up to 25 Feminine Items (you can select a full sealed box or mix and match a combo of feminine products), a hand-curated gift, specialty bath and body pampering items, artisan confections and teas and drinks.
What's Inside: A Unique Gift, Bath and Body Pampering Items, Specialty Teas or Drinks, Sweet Edible Treats, Up to 20 Menstrual Items, Hygiene Wipes and Ibuprofen.
Price / Deals: $24.50/month
Rose War Panty Power
A Rose War Panty Power box is made to empower women before, during, and after their monthly period. It is a must-have subscription box that contains all-natural and organic items that are necessary for getting through that "time of the month"!
What's Inside: 14 organic pads/tampons (you choose!), 2 pairs of underwear, 3 to 6 lifestyle gifts (anything from home decor to skincare), 1 to 3 sweets for a value of $60.
Price / Deal: $25.20/month
B*tchy B Box
B*tchy Box offers women the opportunity to have something fun to look forward to every month. The B*tchy Box brand allows us to support local businesses. Women run organizations within our own community by featuring local goods and customized items in our boxes.
What's Inside: variety of sweet treats, salty snacks and handpicked gifts and pair of under sizes small to 3xl.
Price / Deal: $20.00-$66.00/month
Kali
Kali ships chemical-free, organic feminine hygiene products conveniently to your door by the first of every month. Options for every lifestyle. Organic menstrual pads and 100% cotton tampons. Stay Dry and Safe.
What's Inside: pads, tampons, panty liners, whipettes and a relaxing pampering product.
Price / Deal: $16.00-$22.80 /month – Use Kali20 for 20% off
Which of these period subscription boxes would you like to try?