Must Have Kitchen Gadgets : FunBites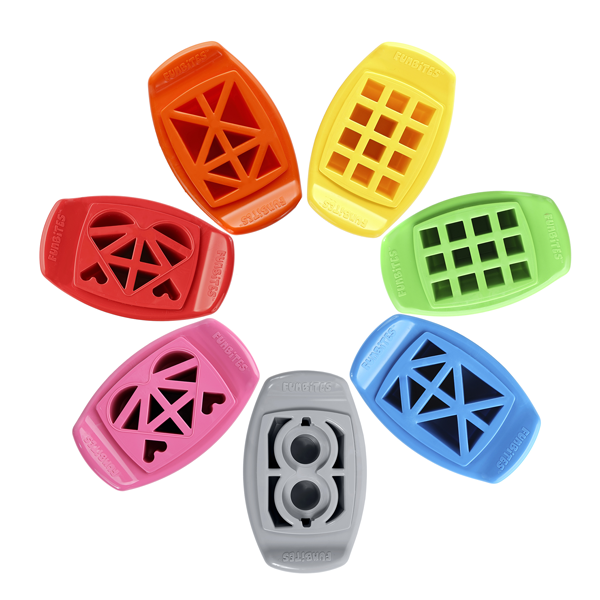 I always see those awesome school lunches, that look like the moms spent like 5 hours cutting their child's lunch into all these awesome shapes & designs. Little did I know, there was this thing called FunBites cutters. They make it 10x easier for you to get all those fun shapes within seconds. I'm all for that. I picked out the triangle cutter, we will have to go back and get the rest of them. More shapes, more choices. For the record, they do SHIP overseas 🙂
Place FunBites cutter on top of the sandwich. Remove popper top and place to the side. Grab handles on both sides of the cutter. Press down and firmly rock back & forth 5-6 times to cut all the way through the food. Insert popper top, lift cutter up from food and push down popper to pop out the fun-shaped bite-sized pieces. FunBites prefers to be hand washed, but it is dishwasher safe in dishwasher. Keep popper inserted in cutter and wash upside down.
My only real complaint would be, there's a lot of extra "waste" the cutter has a lot of space that doesn't get cut with the size. Unless you turn the sandwich the other direction, that way you cut the crust as well. It works for more than just sandwiches, it works on fruits, cheeses, meats & more. Overall the kids love using this on their sandwiches, the fun shapes they can make. It's fast, easy & totally recommended!  They have new minion glasses! This is like the coolest thing possible, I plan on getting them for myself, that's right. haha
Disclosure : I received one or more of the products or Services mentioned.