10+ Manly Man Gifts For Him In 2017 | #THBGG #ad
I partnered with The Hopping Bloggers for this sponsored Holiday Gifts For Him Guide.
When I was married, I think I pretty much got my husband the same thing every year. I tried to make him make a list or give me a gift guide to go by, but he never would. Now that I'm divorce, shopping for "him" means shopping for my brother or dad. They're pretty easy to shop for, our family hoards tshirts, lol. But if you need some help shopping for the 'him' in your life, here's some manly man gifts for him this holiday season.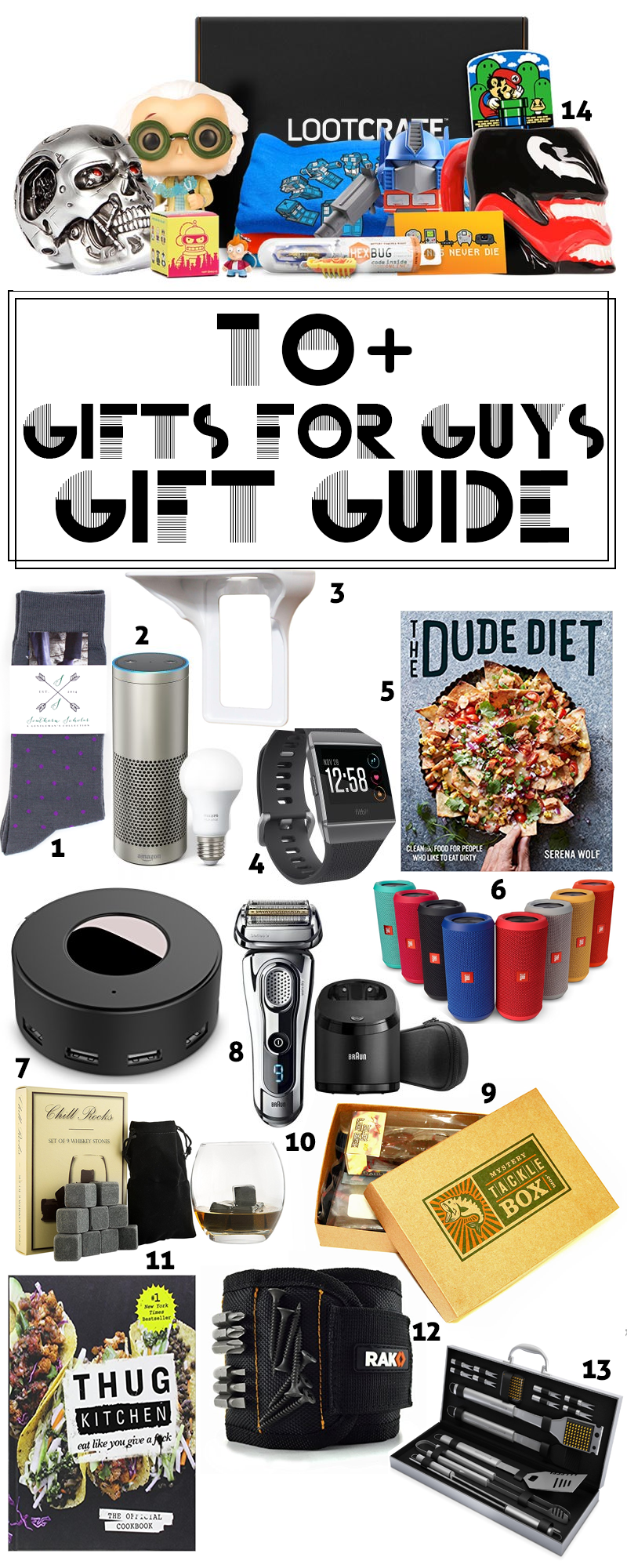 The Power Perch
The Power Perch makes it easier than ever to conquer the challenges of organization. This is an easy way to organize for the men in your life that hate organizing. This sturdy shelf is held in place with your existing outlet cover (no additional holes needed), and allows you to add storage space anywhere there's an outlet. He can use it to charge his phone, tablet, shaver, or any other tech devices that will fit on this handy little shelf. He can use it anywhere he needs a little extra space! Add a shelf to any outlet with Power Perch! (fits all vertical single outlets and requires no additional hardware).
Order Now on StorageTheory.com or Amazon.com
COUPON CODE: with code HOPGUIDE20 Readers will get 20% off any Power Perch products through December 31st when they use this discount code at checkout on the Storage Theory site.
Southern Scholar Subscription Box
Give him the look of a lifetime with this subscription box. With dress socks that keep him warm, comfy, and stylish – this is the perfect holiday gift for the men in your life this year! And, it's a monthly subscription box, so it's a gift that keeps on giving!
Superior dress socks + our Signature Style Card delivered to your door each month. Unlike other sock subscriptions, we provide high quality, professional dress socks that will keep their place and keep you comfortable throughout your entire workday.
Order Now on SouthernScholar.com & save 50% off with code: HPHOLIDAY
Echo Plus
Echo Plus is a hands-free speaker you control with your voice, with a built-in smart home hub. It connects to the Alexa Voice Service to play music, ask questions, make calls, provide information, news, sports scores, weather, and more—instantly. All you have to do is ask.
Echo Plus has 360° room-filling sound powered by Dolby, and can hear you from across the room from any direction. It is always getting smarter as Alexa continues to add additional features. With a built-in smart home hub and simple setup for compatible connected devices, starting your smart home or integrating into your existing system is now easier than ever.
Order Now on Amazon.com
The Dude Cookbook
The Dude Diet also demystifies the basics of nutrition, empowering men to make better decisions whether they're eating out or cooking at home. Better still, each recipe is 100% idiot-proof and requires only easily accessible ingredients and tools. With categories like Game Day Eats, On the Grill, Serious Salads, and Take Out Favorites, The Dude Diet will arm dudes and those who love them with the knowledge they need to lead healthier, happier lives—with flattened beer bellies and fewer meat sweats.
Order Now on Amazon.com
Fitbit Ionic
Give him a gift that will keep him moving all year long and stylin' for every kind of event.  Ionic builds on Fitbit's health and fitness expertise with a new relative SpO2 sensor, making it possible to track deeper health insights like sleep apnea in the future, industry-leading GPS tracking, on-device dynamic workouts, improved heart rate tracking, and water resistance up to 50 meters. Plus, smart features like contactless payments, on-board music, smart notifications, and a variety of popular apps and clock faces available in the Fitbit App Gallery. Ionic also has all the core features our users love from Fitbit like up to 5 days battery life, automatic activity and sleep tracking, and cross-platform compatibility!
Order Now on Amazon.com
Splashproof Portable Bluetooth Speaker
All-purpose, all-weather companion jbl flip 3 is the next generation wireless speaker in the award-winning flip series. It is a comprehensive portable Bluetooth speaker that delivers surprisingly powerful, room-filling stereo sound everywhere. This ultra-compact speaker is powered by a 3000mah rechargeable li-ion battery that offers up to 10 hours of continuous playtime. Sporting a durable, splash proof fabric and available in 8 vibrant colors, flip 3 is the all-purpose, all-weather companion that integrates music into every aspect of your life – from tabletop to poolside, from sunny mornings to rainy nights.
Order Now on Amazon.com
Braun Series 9 Wet & Dry Shaver
Braun Series 9 electric shaver is our #1 shaver – providing unmatched closeness and unprecedented skin comfort. The perfect combination of efficiency and skin comfort can be found with our #1 shaver. Choosing the Series 9 means you are choosing today's standard of excellence in both – an efficient and gentle shave
Order Now on Amazon.com

6-Port USB Charger Desktop Charging Station 
Smart Charging Technology automatically identifies connected devices and their unique charging requirements. Every port of the USB charger delivers exactly the right amount of power to match your devices needs.
By charging through a single multi port USB charger station, you reduced the number of USB wall charger required and freed up outlets in your home and office. Low center of gravity design make the multiple USB charger not tend to tip over than USB tower charger when you charge multiple devices.
Built in LED indicator indicate whether the multi-port USB charger is properly connected to power source, anti-slip silicone rubber circle keeps the 6 ports USB charger securely in place and avoid scratching your desktop, high quality construction with durable housing and premium circuit.
Order Now on Amazon.com
Mystery Tackle Box
Know a fisherman but don't know fishing? Most people wouldn't think of stepping into the world of fishing when it comes to gifts …enter Mystery Tackle Box. MTB has the perfect gift option that all anglers will love! The best part is you don't need to know a thing about fishing to give the gift of fishing this year. Here's is how it works.
You purchase an MTB gift certificate. Quick, easy, done. Your gift recipient then creates an account and tells MTB what fish species they like to fish. MTB sends a curated box of baits to them each month based on their fishing preferences. They receive their first box within 10 days of signing up.
Order Now on MysteryTackleBox.com on Black Friday & Cyber Monday for their big Holiday sale!
Loot Crate Subscription Box
Loot Crate is a monthly subscription box service for epic geek, gamer, and pop culture gear. Every month there is a different theme and all items in the crate are curated around that concept. Themes are inspired by major movie and video game releases as well as pulling from pop culture franchises we all know and love. Previous crates have included items from franchises like Star Wars, Marvel, The Walking Dead, The Legend of Zelda & many more.
Save $3 Off any Crate w/ code FB3 at Lootcrate.com
Chill Rocks
Chill Rocks is the aficionado's choice for "on the rocks". It eliminates a common problem for all connoisseurs of fine distilled spirits. It will add the perfect chill without diluting it down. Chill Rocks are non-porous, meaning, there is no odor or taste to tarnish your drink. Unlike ice, Chill Rocks provides a smooth chill that does not overwhelm the character of your beverage. Each set of Chill Rocks comes with nine finely crafted cubes made from 100% pure soapstone.
Order Now on Amazon.com
Thug Kitchen Cookbook
Thug Kitchen lives in the real world. In their first cookbook, they're throwing down more than 100 recipes for their best-loved meals, snacks and sides for beginning cooks to home chefs. (Roasted Beer and Lime Cauliflower Tacos, Pumpkin Chili, Grilled Peach Salsa, Believe that sh*t.) Plus they're going to arm you with all the info and techniques you need to shop on a budget and go and kick a bunch of ass on your own.
Order Now on Amazon.com

Magnetic Wristband
10 STRONG MAGNETS embedded in each wristband surround almost entire wrist for holding screws, nails, bolts, washers, drill bits. Perfect for home improvement, construction, carpentry, auto repair, sewing, and other DIY projects. 
GREAT TIME SAVER by providing a 3rd helping hand when you need it most. No more headaches from losing or dropping small items while working.
Order Now on Amazon.com
BQ Grill Tools Set with 16 Barbecue Accessories
The best part of a perfect BBQ is having the right TOOLS for the job. Without these, you would end up having a very unpleasant experience. But our 16-piece BBQ set is made of sturdy Stainless Steel construction assures you a great time with friends and family around!
Everyone will admire the sleek beauty of these tools and how they make grilling so effortless! You get a chef spatula, grill tongs, silicone basting brush, 4 pairs of corn holders, cleaning brush, 2 skewers for grilling veggies and an extra cleaning brush head all in a beautiful Home-Complete storage case!
Order Now on Amazon.com
Enter to win a collection of items featured in the Gifts for Men Holiday Gift Guide
What's your favorite gifts for him from the list above? did we miss something?