10+Fantastic Gifts for Family
I'm here to give you some more gift guide ideas for family members of all ages. Here's a selection of a little bit of everything of gifts for family members or as a whole. I've always been a fan of sending one gift to a family than spending loads of each member, we got a big family, so it can get crazy.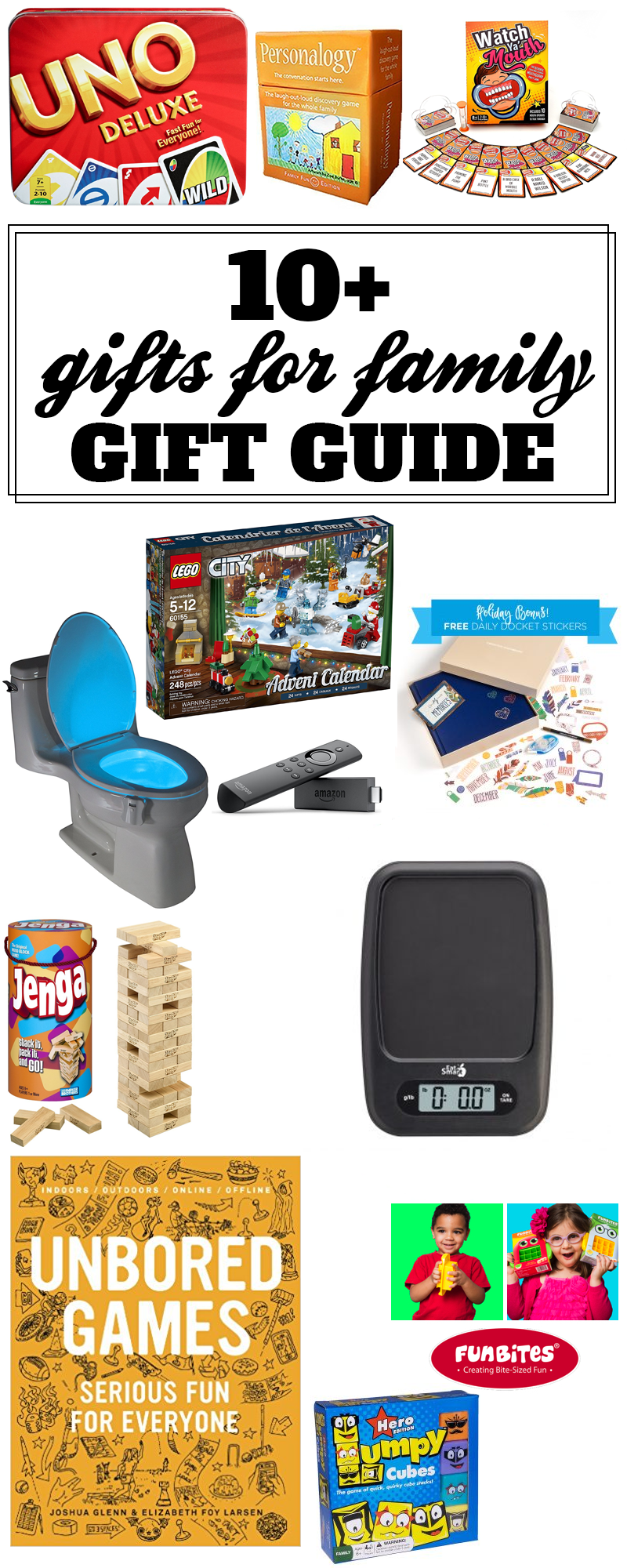 UNBORED Games: Serious Fun for Everyone
The book offers a gold mine of creative, constructive fun: intricate clapping games, bike rodeo, Google Earth challenges, croquet golf, capture the flag, and the best ever apps to play with Grandma, to name only a handful. Gaming is a whole culture for kids to explore, and the book will be complete with gaming history and interviews with awesome game designers. The lessons here: all games can be self-customized, or hacked. You can even make up your own games. Some could even change the world.
Order Now on Amazon.com
EatSmart Precision Digital Kitchen Scale
The EatSmart Precision Digital Kitchen Scale is a versatile multi-function home appliance. Designed to be highly accurate and aesthetically pleasing, the Precision Digital is manufactured to the highest quality specifications. Weigh items up to 11 lbs quickly and accurately, with results displayed in four different measurement modes: grams / ounces / pounds / kilograms. The recessed platform allows you to effortlessly weigh items on the scale itself and the plastic design is easy to clean. This is a great gift idea for anyone who spends time in the kitchen – great chef or not. A must have for any family!
Get it on: EatSmartProducts.com
Lumpy Cubes Heroes
Lumpy Cubes Heroes is the superhero edition of RoosterFin's quick-play stacking game designed to improve your memory, reaction time, and motor skills. The Hero Edition also includes 4 character cards that describe the heroes super powers. Lumpy Cubes received the 2017 Seal of Excellence Award by Creative Child Magazine and 2017 Tillywig Best Family Fun Award.
Get it on: RoosterFin.com or Amazon.com
FunBites
FunBites super sturdy and durable curved blade cutter cuts any kids' food into bite-sized fun shapes. We make food so much fun that even the pickiest eaters can't resist! FUNBITES works on kid-friendly food from pancakes, sandwiches, fruit, veggies, brownies and more! Jackie loves FUNBITES because the food is cut neatly and evenly. Move over junk food! Let's make healthy food more fun. Maybe you have a child like ours or maybe you simply want to add a little more creative fun and simplicity to your kitchen.
Get it on: FunBites.com
Jenga
The suspense is building — and so are you! Carefully pull a wood block out of the tower and place it on top. It's easy at first, but as more blocks get pulled, the tower starts to get unsteady…and you'll be on the edge of your seat just trying to keep it from falling! Stay cool, stay calm and stay steady, because the last player to complete their turn before someone makes it topple, wins!
Get it on: Amazon.com
My Memories Gift Box
Shopping for yourself, a photo-loving friend, teen, newlywed or a new mom? This holiday special includes a FREE GIFT with purchase. Your Creative Memories Photo Album Gift Box makes the perfect personal gift to save memories beautifully, with a bit of fun! Each gift box includes a 12×12 scrapbook album with predesigned pages, so it's quick and easy to add photos. It also includes a pen,adhesive, page protectors and 50 die-cut embellishments (a free bonus!) for added dazzle! All of it comes in an impressive gift box, guaranteed to make an impression and become a cherished keepsake.
Get it on: CreativeMemories.com
Uno Game Card Tin
Everyone loves UNO-kids, teens and adults! It's a great way for the entire family to spend an evening together. Players race to get rid of all their cards by matching color or number, or use an action card to really turn up the heat. When someone is down to one card, they better not forget to yell "UNO!" The first player to discard all cards wins. Comes with UNO deck, double-deck card tray, score pad, pencil and instructions.
Get it on: Amazon.com
Personalogy Family Game
Personalogy is a discovery card game that gets the whole family talking, laughing and having fun! Kids love to play, it creates hilarious and memorable moments for family dinners, parties or road trips! Personalogy brings families together through more meaningful and amusing conversation. Personalogy promotes families to share stories. The interactive component of describing "why" is what generates surprises and laugh out-loud moments.
Get it on: Amazon.com
Amazon Fire Stick
Just plug Fire TV Stick into your HDTV and start streaming in minutes. Use the included Alexa Voice Remote to find the best way to watch across more than 190 channels and apps with universal search. With the fastest Wi-Fi and most accurate voice search of any streaming media stick, shows and movies start faster and stream smoother than ever. With access to Netflix, Hulu, HBO NOW, YouTube, Amazon Video, and more—there are over 500,000 TV episodes and movies ready to stream. Watch live TV (including sports and news) as it happens. Subscription fees may apply.
Order Now on Amazon.com
 Watch Ya' Mouth Family Edition
Watch Ya' Mouth, Hilarious, Mouth guard Party Game. Originated in viral videos, Launched on Kickstarter, and now on Amazon just for you! In this laughter-inducing, competitive card-based game, teams of players, hampered by cheek retractors, attempt to read and interpret/speak out phrases and…. Hilarity ensues! Good for Ages 8+, with virtually unlimited players (when played using our "Alternate" rule set), Watch Ya' Mouth is a must for any gathering, party, game night, or family night. Our mouthpieces are FDA and CE certified, our cards are thick and durable, and our community is second to none.
Order Now on Amazon.com

Motion Activated Toilet Nightlight
The glowbowl is the highest quality toilet light on the market. Glowbowl will transform any toilet into a nightlight in seconds. No more missing your target or stumbling around in the dark – the glowbowl is motion-activated and light-sensitive. Glowbowl solves all your nighttime bathroom problems and more. With the touch of a button, you can choose from seven different colors: Blue, purple, aqua, yellow, red, white or green. With the glowbowl, you no longer need to worry about turning on the blinding light again. The glow bowl's dimming feature allows you to further customize it by selecting the level of brightness you desire. From a nice subtle glow to a brightness that radiates beyond the bowl great gift idea for the person that has everything. Do not be fooled by "like" products that use ineffective 2-way sticky tape or suction cups that do not stay in place.
Order Now on Amazon.com

LEGO City Advent Calendar
Count down to Christmas with this colorful LEGO City Advent Calendar. Kids can reveal a new mini-build for every day in December leading up to Christmas. Includes 24 separate builds in one set and a play mat to display the Christmas scene! Every day brings a new mini-model to build, as your child constructs a realistic LEGO City Christmas. A great way to get your builder into the holiday spirit. It's an affordable gift for any holiday or special occasion leading up to Christmas.
Order Now on Amazon.com
What's your favorite gifts for family from the list above? did we miss something?
I partnered with The Hopping Bloggers for this sponsored Holiday Gifts for Family Guide.