Easy Peach Cobbler Recipe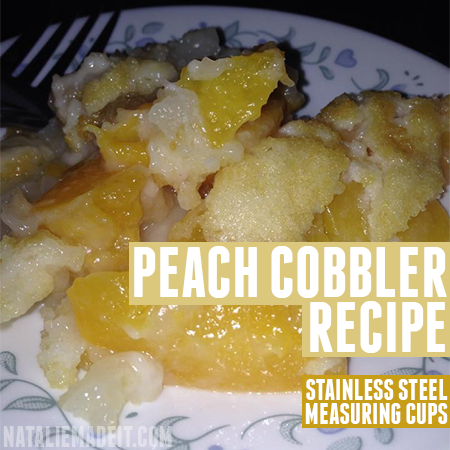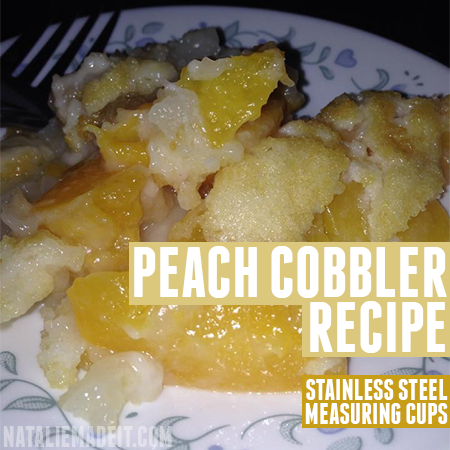 Remember how I said I wasn't the best baker, well I seriously need to semi-master this. Well let's start easy, a super simple & easy dessert would be an easy Peach Cobbler! Now if you're in the south, you should know what a peach cobbler is, if you don't then shame on you! The rest of you may or may not know what it is. Let's just say, it's like heaven in your mouth, as long as you like something sweet & peaches. If I can make this, anything is possible, this is the first time I made this, but my mom has been making this forever! It's really that simple, easy enough a caveman can do it! Let's just say, I made this and it last maybe 2 days, between the kids & I. Jacob, my youngest who is 15 months old, ate it pretty fast, but was covered in cobbler afterwards. I'm still not sure how he manage to get it on the back of his head, but he did.
Peach Cobbler Recipe
Ingredients
2 14 oz can of peaches (or 1 29 oz can)
1 cup of milk
1 cup of self-rising flour
1 cup of sugar
1 stick of butter
bonus: whipped cream or vanilla ice cream on the side.
Total Time:
1 hr 30 min  ||  Prep: 10 min  ||  Inactive: 20 min  ||  Cook: 1 hr
Directions
1 – Drain 1 can of peaches; reserve the syrup from the other.
2 – Heat the butter on the stove or in the oven until it's melted.
3 – In a medium bowl, mix the flour and sugar. Stir in the milk and the reserved syrup.
4 – Pour the batter over the melted butter 9- by 12-inch ovenproof baking dish.
5 – Arrange the peaches over the batter. Bake for 1 hour on 350 degrees F.
6 – The cobbler is done when the batter rises around the peaches and the crust is thick and golden brown.
What's your favorite dessert or cobbler to eat?