Easy Oven Baked Bacon Ranch Chicken
Having chicken is always a favorite in our house. My kids eat chicken like it's going out of style, so I always try to come up with fun ways to change it up, no one likes the same thing every night. One of my favorite things to do is rolling chicken in cracker crumbs. So when RITZ bacon flavored became I thing, I knew I had to try some oven baked bacon ranch chicken.
It works with any kind of crackers – any flavors. I'm a lover of anything bacon, when it's cooking – it legit smells like bacon in the kitchen. You can also use any type of chicken with it, I normally use tenders if the kids are here, but for my parent's house, we use breast and/or thighs. Let's just say we basically inhaled these.

Here's an easy and simple dinner for the family, friends or party! Time will change depending on how much you're making and what kind of potatoes & chicken you use.  I made some oven roasted cheesy potatoes over here. That's delicious as well! I used thighs and red potatoes, but honestly you can use whatever kind you want. Then just steam up some veggies and you got yourself a nice yummy meal that will leave everyone wanting seconds.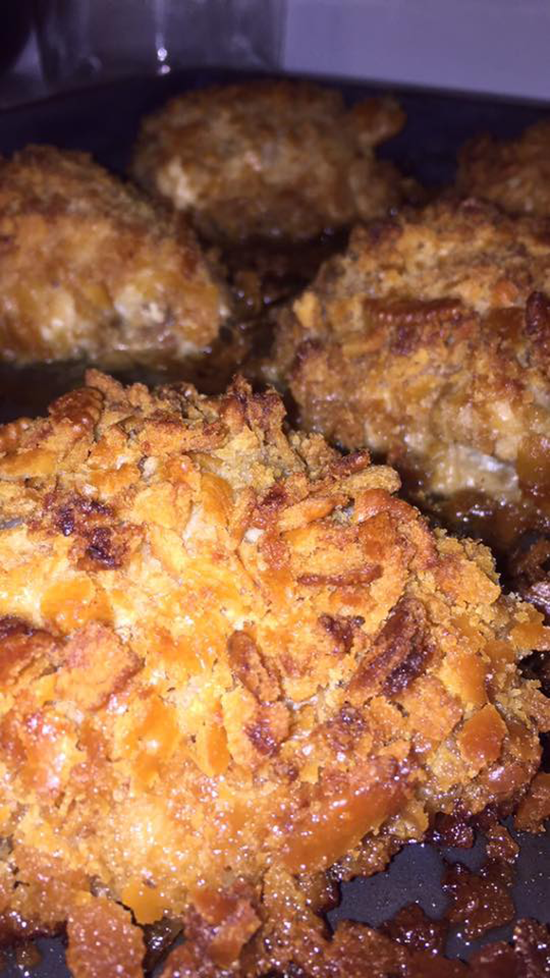 Chicken, bacon, ranch and cheese are combined to make one of the most flavorful and easy dinner recipes that your whole family is sure to love!  This is the perfect recipe for an quick weeknight dinner.
Oven Baked Bacon Ranch Chicken
Oven Baked Bacon Ranch Chicken
Ingredients
Ingredients:
Box of Ritz Bacon Flavored Crackers
Hidden Valley Ranch
6 Chicken (breast, thighs, tenders)
Instructions
Pour ranch into a bowl & smash crackers into a bowl.
Dip chicken in ranch dressing.
Dip chicken from ranch into crackers
Place on pan & cook 375 degrees for 45 minutes (depending on how many pieces of chicken).