7 Things You Must Bring With You To A Concert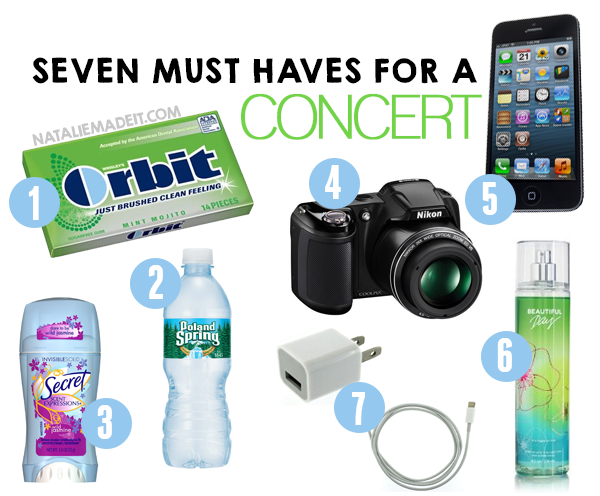 Summertime is a great time to hit up some amazing concerts for awesome music. I was able to attend this concert in Nashville, TN to see Tyler Ward with Brynn Elliott & Mikey Wax. The Concert was amazing!! Then again in Vienna, VA to see Tyler Ward again with Brynn Elliott & My Silent Bravery. Which by the wall all of these bands are amazing, I will have another post about them soon. With that said, I've learned a lot of things from these two shows and when I used to go to all kinds of concerts back in the day. Here are 7 Things You Must Take With You To A Concert.
1) GUM. Seriously, why do I even have to explain this one. It also helps you fight hunger, lol.
2) WATER. You will get thirsty, I suggest you put one in your bag, you will thank me! I was at the front row, dying, ended up drinking like 3 bottles after the whole show was done with.
3) DEODORANT. Another, this is pretty simple why you would need this. It gets sweaty in there.
4) CAMERA. Yep, because if you're not able to keep your phone charge, your camera will be your BFF. Also it takes better pictures!
5) PHONE. If you don't have a camera, then you're bring this for pictures, update your instagram, twitter, etc etc.
6) BODY SPRAY. Once again, it get's hot while indoors, lots of sweaty bodies, like.. you will thank me!
7) PHONE CHARGER. Like the first Tyler show, I was able to charge the phone when I needed. The second  show, they blocked all the plugs off with tape, grrr.
What Do You Bring With You To A Concert?