Not Your Mama's Black Bean Sweet Potato Chili
Who doesn't love some chili? My favorite chili to make is black bean sweet potato chili. One of our favorite recipes throughout the year, no matter how the weather is treating us, would have to be a big bowl of black bean sweet potato chili.
The only problem I always run into when eating a big bowl of chili would be the fact that I'll get occasional heartburn and sleeplessness right before going to bed. Anyone that gets occasional heartburn before bed can tell you, it feels horrible. I've tried a number of different things over the years, none have really helped.
I received compensation from Alka-Seltzer® to write this post. All opinions are entirely my own. #MyFoodMoment #CollectiveBias
Until the other day I was at Walmart getting all the ingredients for black bean sweet potato chili and I saw that they have a new product for relief of occasional heartburn and sleeplessness, Alka-Seltzer® PM Gummies. Which also contains melatonin, as an added bonus, for that occasional sleeplessness that occurs.
Check out the heartburn relief section in the pharmacy at Walmart and you will find the Alka-Seltzer® PM Gummies.
Some people make basic chili, I like to load my chili with veggies that are good for you to give you that extra yumminess that makes it stretch, because we're always sharing the chili with friends and family.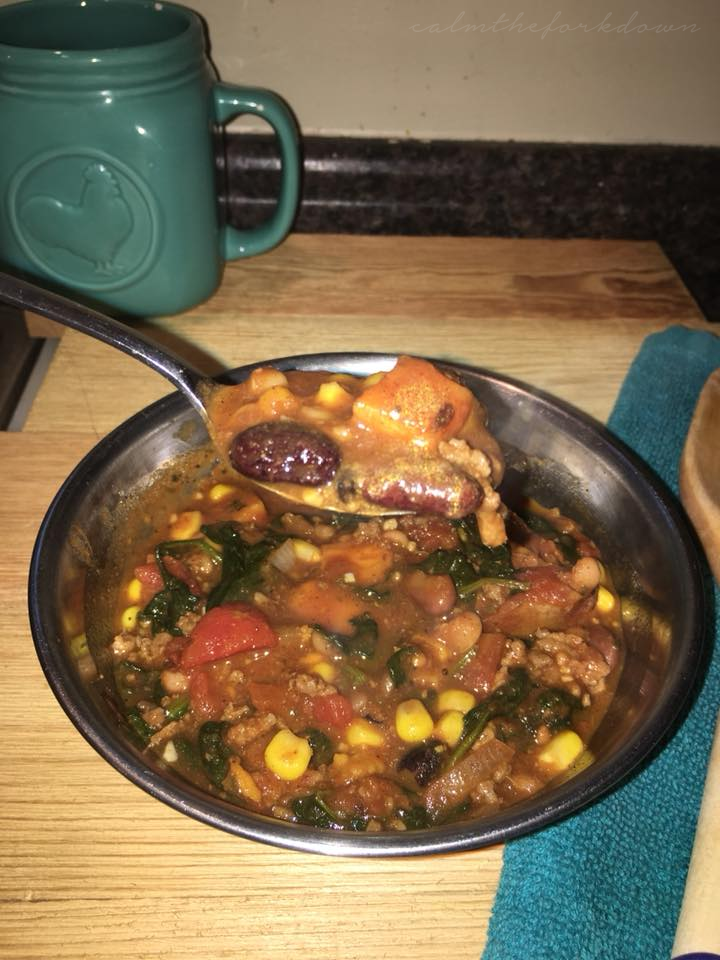 Ingredients
1.5 pounds of hamburger

2 sweet potatoes

small bag of spinach

small bag of frozen corn

3 cans

10

oz of diced tomatoes

1/4 cup of diced yellow onions

1 tbsp chili powder

1 tsp cumin

1/4 cup of diced yellow peppers

1 tsp garlic powder

1 tsp onion powder

salt/pepper for taste

*** optional : sour cream & shredded cheese to put on top.
Instructions:
Preheat oven to 400 degrees. Line a baking sheet with parchment paper or a silicone baking mat.

Slice and dice sweet potatoes and then combine sweet potatoes, 1/2 teaspoon salt, and 1 tablespoon olive oil in a large bowl and toss to coat. Spread sweet potatoes on the prepared baking sheet in a single layer.

Roast sweet potatoes in the preheated oven until the outside is crunchy and inside is tender, 20 to 25 minutes. Allow to cool to room temperature.

Thaw out hamburger and cook the meat and then drain.

Cook and stir remaining onions, spinach, corn, diced tomatoes, garlic, chili powder, cumin, garlic powder & onion powder in a pan over medium heat until soften.

Stir black beans and cooled sweet potatoes into the vegetable mixture. Add more water if mixture is too thick. Simmer until heated through, about 15 minutes. Season with salt and cayenne pepper to taste. Serve topped with sour cream and shredded cheese.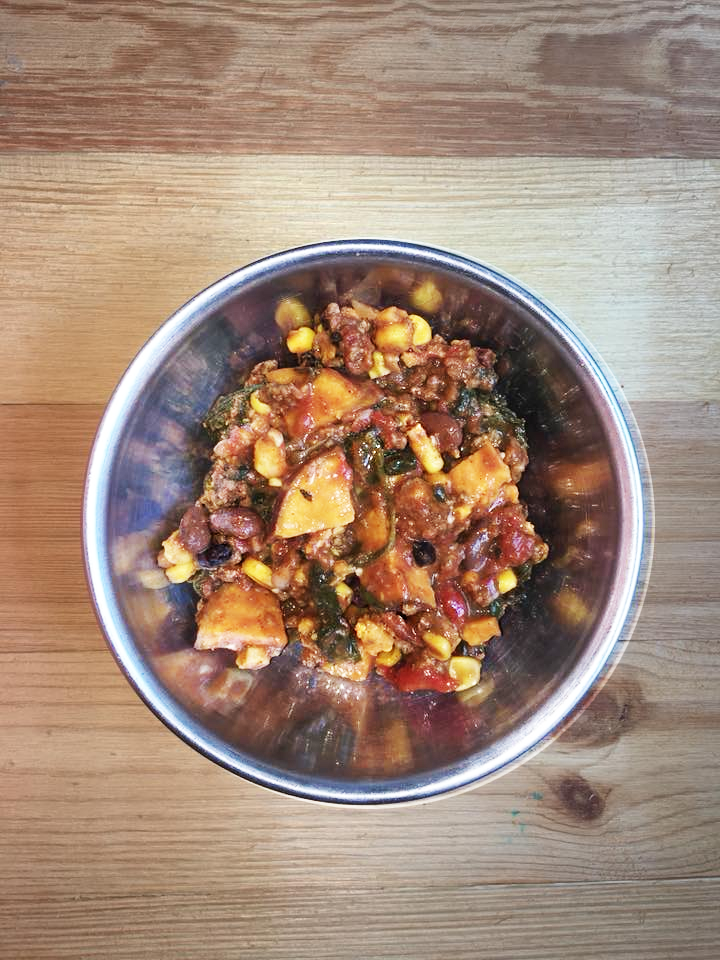 These pictures don't do it justice, it didn't even make it for leftovers, everyone ate it up. I also got a solid 8 hours of sleep which was amazing. Having a bottle of Alka-Seltzer® PM Gummies around, allows you to enjoy spicy foods at night and also helps provide relief with melatonin to help you get to sleep more quickly. Can you beat that? no, no you can't.
Click HERE to download your coupon to save $1 and $2 off of Alka-Seltzer® PM Gummies products. You can check out their Facebook for more information.
Have you ever had Black Bean Sweet Potato Chili? What spicy foods always give you heartburn?