Beer Bread with Cheese & Garlic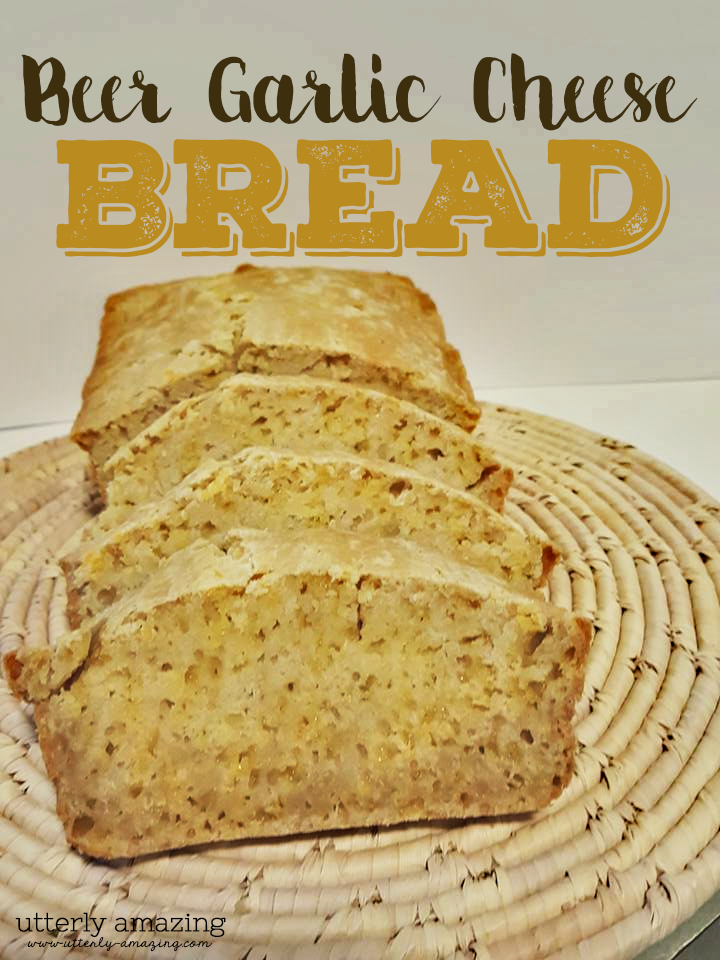 I used Dos Equis for this beer bread with cheese & garlic but you can use any kind of Brown ale, lagers, and porters are all good. Let the beer come to room temperature, or close to it. Sifting the flour is a must. The bread will be lighter and fluffier.
Beer Bread is buttery, chewy, and tastes like your favorite beer. The yeast in the beer interacts with the sugar to help the bread to rise (and the baking powder gives the bread an additional boost to keep it from becoming dense). … A beer with fruit tones will lend a sweeter, fruity bread.
Beer Bread with Cheese & Garlic
Ingredients:
3 cups flour
1 cup shredded cheddar cheese
1 teaspoon garlic powder
3 Tablespoon sugar
1 Tablespoon baking powder
1 teaspoon salt
1 (12oz) bottle of beer
2 Tablespoon melted butter
Directions:
Preheat your oven to 350 degrees and prepare a regular loaf pan (9×5) with baking spray.
In a medium bowl, add flour, sugar, baking powder, garlic powder and salt. Stir it around to blend it together.
Add shredded cheese and stir.
Create a well in your dry ingredients and slowly pour the beer into the center. This always reminds me of a volcano.
Mix & blend all ingredients well, then pour into your prepared bread pan.
Bake for 35 – 45 min, or until it's pulling away from the sides and a toothpick comes out clean when inserted to the center.
Drizzle melted butter over the top and allow to cool for 10 minutes or so.
Before turning upside down, I run a butter knife along the edge to loosen the bread. Flip the pan over and gently jiggle until the bread pops out.
Cool for about 10 minutes.
Have you ever made beer bread with cheese & garlic before? What is your favorite kind of ale to use?
But let me remind you, Drink Responsibly & Enjoy Heineken USA brands responsibly.