4 Simple Bathroom Chores For Kids Under 10 with Cottonelle CleanCare
No one ever seems to have time to change the toilet paper roll these days, with Cottonelle CleanCare mega rolls – it last a lot longer than before! One of the biggest struggles as a parent, let alone a single parent is getting your children to do housework and chores. Something I wish I learned sooner than later, was to start when they were young. Teaching them when they're around the age of 3 to 4 years old.
Taking out the trash
It's as simple as that, we re-use our Walmart bags from the store in the trash can in the bathroom. It's small and easier for the kids to pickup and take out to the trash. It's important to teach the kids to take out the trash and keep each room neat and not messy.
Wiping down the counters
Instead of giving the kids a spray bottle and rag to clean off the counters, walls, mirror and door. It's easier to use those easy wipes that are harmless for children to use to wipe down and kill the germs in the bathroom.
Picking up laundry
While we don't try to keep a basket in the bathroom, because honestly there's no room for that in there. However there's always a few items thrown behind the door, simple light tasks are easiest for little kids. While they may be to young to actually wash the clothes, helping collect the dirty laundry, beats from bending over and doing it yourself.
Replacing the toilet paper
Something as simple as re-stocking the toilet paper, seems to be a challenge for most adults. But this is a simple task for small hands. Hannah added a roll of Cottonelle Mega Roll CleanCare. There's 20% more tissue paper and 12 mega rolls are equal to 48 regular rolls, which is pretty insane.
Other little jobs in the bathroom could be sweeping, cleaning the toilet, but that could gross out some people. When I worked as a housekeeper for this one dirty hotel, nothing can gross me out anymore. Between that and being a mom of four, I've seen it all.
With the amount of little people in the house during the summer break, it's well needed. We also have a back-up toilet paper holder that Jacob filled, that is good for him because he's learning to stack and count as he adds the rolls.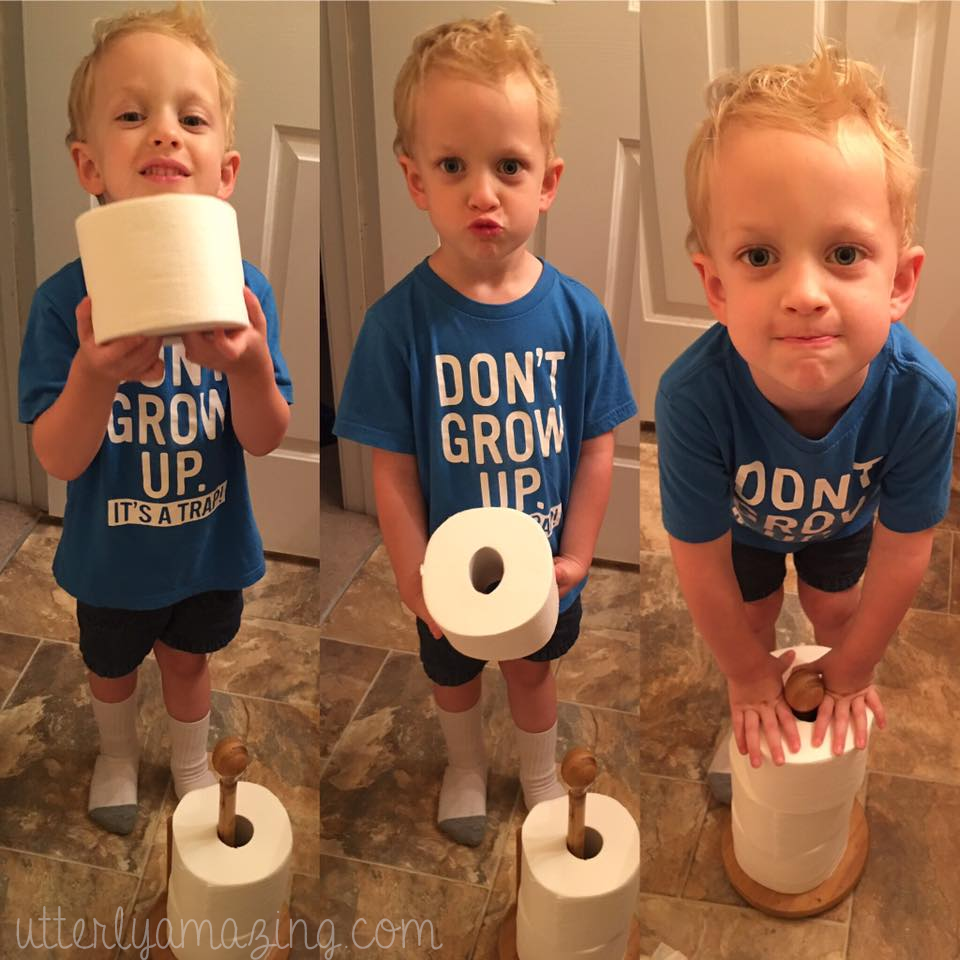 Cottonelle CleanCare toilet paper with clean ripple texture is designed to clean better per sheet versus the leading national value brand and give you the confidence you need to take on the day. By featuring the clean ripple texture on every sheet, the huggably soft Cottonelle  bath tissue never compromises its strength and effectiveness to get you cleaner. Cottonelle toilet tissue is not only safe for your behind, it's safe for sewers and septic systems as well. Choose Cottonelle toilet paper and experience the clean ripple texture difference for yourself. For the ultimate in freshness and cleansing, add Cottonelle fresh care flushable cleansing cloths to your bathroom routine.
So we headed to Walmart this week to stock up on Cottonelle CleanCare mega rolls, There's two options for busy working parents, you can order online and get it shipped to your house or you can order what you need and then pickup your goods at Walmart. I think that sounds pretty awesome as a single mom that works two jobs. However they don't do it close enough to me yet, the closest Walmart that does pickup is over 30 minutes away. Don't forget to activate your ebates on your chrome browser, they currently have 10% cash back, you honestly can't beat that!
Does your child have chores? Who normally cleans the bathroom? Have you tried Cottonelle CleanCare?