4 Inspiring Movies on Netflix | #NetflixBinge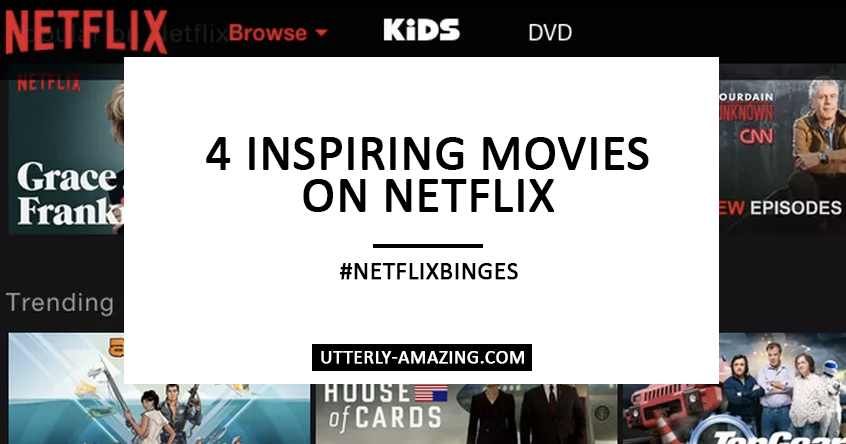 I watched these 4 inspiring movies on Netflix, that will inspire you to not give up on life, no matter what life throws at you. I for one have learned that the hard way, I wouldn't change the things I've been through, but at the same time, I won't let them define me either.I don't know about you, but I am one who can sit and binge on Netflix all day. There's so hundreds of movies on there, no one ever knows about. I like to watch a movie then at the end of that movie, Netflix recommends like 3 other movies normally. Then I just go from there. Well I wasn't working at McDonald's and I had some Etsy orders to do, so I like to multi-task while doing those.
4 Inspiring Movies on Netflix
If I Had Wings
Sixteen year old Alex Taylor dreams of flying. He also dreams of running for his high school's cross-country track team. Both dreams seem equally out of his reach, as Alex has been blind since the age of two. Alex, determined to run, practices with his father, Probation Officer, Geoff Taylor. Geoff, with additional girth and age working against him, finds that he no longer can keep up with his son, a very gifted runner. He must find a running partner at the school fast enough to help Alex make the cross-country team.
My thoughts: Just like the guy out of 23 Blast, this was another blind guy not letting his blindness disable him and let him live his dreams. Not giving up, no matter what's thrown at you. Simply inspiring.
23 Blast
As a typical teenager, Travis Freeman (Mark Hapka) is a local hero both on and off the high-school football field in his small Kentucky town, but in 1997, Travis contracts an infection that destroys his optic nerve and renders him blind overnight. With the loving help and concern of his parents, physical therapist, coach and best friend, Travis demonstrates what true bravery is: He continues to compete on the gridiron and helps his team advance to the state finals.
My thoughts: This movie is totally inspiring. I never really thought about, what I would do if I was blind. We have so many excuses to why we can't do things, when there are people out there who aren't giving up. Playing football blind? That's inspiring! This movie is so great! Also based on a true story!
Once I Was a Beehive
Lane Speer (Paris Warner) is a young girl who enjoys camping with her parents. Lane's father dies from cancer, and her mom re-marries a Mormon a year later. Before Lane's mother and her new father go off on their honeymoon, they encourage Lane to go to on a week-long girls' Bible camp for the LDS Young Women. Lane eventually decides to go on the trip so that her phobic step-cousin Phoebe (Mila Smith) would also go.
My thoughts: This was actually pretty good. I don't know much about the Mormons, however i really enjoyed this movie. I cried at the end of this one, I don't want to give away any spoilers either.
Walt Before Mickey
Walt Before Mickey is about Walt Disney (Thomas Ian Nicholas) and his early beginnings in Marceline, Missouri. The story follows his poor beginnings and eventual move, after wartime service, to Kansas City, where he created his first animation studio Laugh-O-Gram Studio. There he hired Rudy Ising (David Henrie) and Ub Iwerks (Armando Gutierrez) to help start his business. Walt had various minor successes. Frank Newman (Arthur L. Bernstein) promoted Walt's animations as Newman Laugh-O-Grams, which were an instant success. However, due to Disney's carelessness in selling the animations at cost (with no profit), he was forced to have Laugh-O-Gram file for bankruptcy, leaving him homeless. Iwerks then gave Walt his camera which he later sold to purchase a train ticket to Los Angeles.
My thoughts: Honestly, this was kinda relatable for me. People telling him what he did wasn't a real job, "when are you gonna find a real job.." That hit home. This was put together really well. I love Disney movies, so to see how it all started was pretty amazing.
So I hope you check out these 4 inspiring movies on Netflix – Netflix is amazing and you can really find some great movies on there!
What's your favorite inspiring movie you have seen on Netflix?