5 DIY Halloween Costumes Under $20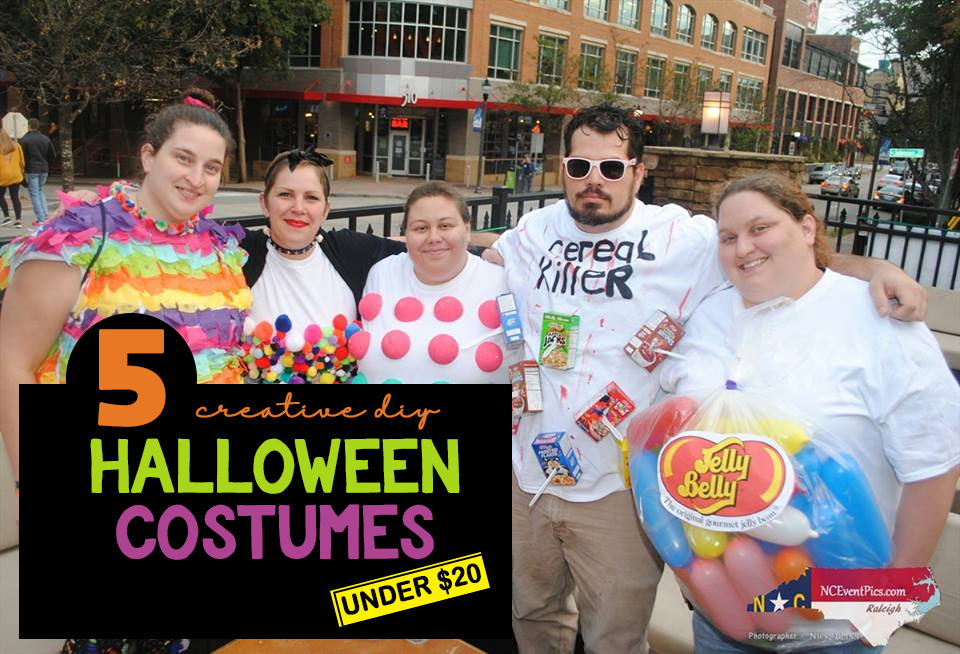 I wanted to do some DIY Halloween costumes for the Halloween bar crawl and here are 5 simple tutorials for each one, you can design for under $20 each.
Okay ya'll I think I have a bar crawl addiction, but not in a bad way, they're just so much fun. I made this 6 bar crawl survival tips for bar crawls, you should totally check out if you ever want to go to one. We recently went to a Halloween bar crawl in downtown Raleigh, NC and it was amazing!
I ran into some friends I met at the Cinco De Mayo crawl and met lots of new people. I love being a guide, one because you can drink on the job and two, you meet all kinds of people.
Pinata Costume
Place your white t-shirt on the floor or table start at the bottom and work your way all the way up to the top. Take your first color of crepe paper, you can go in a row for each other or make it random, it's up to you.
Go ahead and cut the crepe paper into 5 inch pieces, make sure you bend them in half and lay them out across the shirt, to make sure there's enough.
Then hot glue them one at a time or a row at at time, whatever you want to do. Be careful, don't burn yourself.
Jelly Belly Costume
Glue the bottom of the clear trash bag to the bottom of the white t-shirt, so it will hold it up. You can glue a line closer to the top of the bag to the top half of the shirt to hold it in place.
Next fill up your balloons with air and throw a few different colors in the bag, don't put too many, because it will be hard to get around.
For the logo, you can go on Google and look up the logo and print it out, cut it out and glue it to the bag.
Candy Dots Costume
Cut all of the styrofoam balls into halves and you will need 8 of each color (we did 3 colors).
Paint all the balls and let them dry for a few hours or over night.
Glue all the balls on to the shirt in rows of 2×4.
Cereal Killer Costume
Empty all mini cereal boxes and stab knives through the front of the boxes. Glue the knives into their place and let dry.
Hot glue all cereal boxes randomly around the front of the shirt.
Write "Cereal Killer" in black fabric marker on the upper half of the t-shirt.
Take the fake blood and splatter all over the shirt.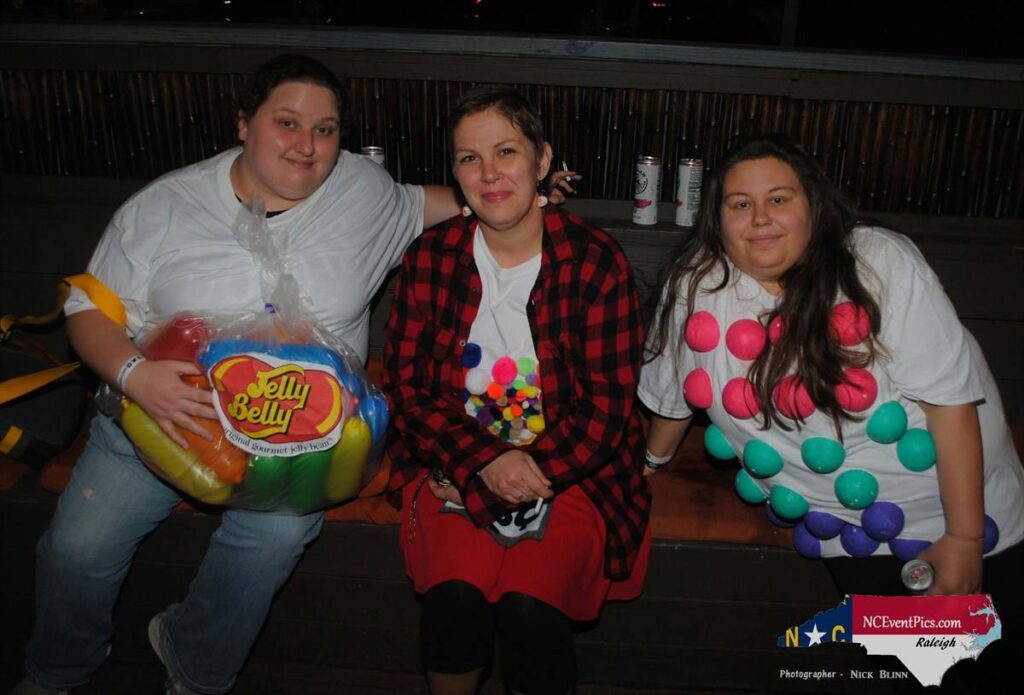 Gum Ball Machine Costume
Pro Tip: We used different size of balls, it's easier if its BIGGER pom pom balls. You'll thank me later.
Hot glue the pom pom balls to the shirt, you can do all over or more of a circle shape, to look more like a gum ball machine.
Take the felt cut out 25 cents out of black felt on to the white felt then on the grey felt. You can safety pin this sign to your shirt or pants.
You can wear red pants or red skirt with a pair of black leggings to make the outfit perfect.
Which one of these DIY Halloween Costumes do you like the most?