Buffalo Ranch Chicken Street Tacos w/ Moore's Marinates & Sauces
As someone who pretty much knows her way around a kitchen, I am always cooking up something simple, yet delicious. I'm a huge fan of tacos, but not just a normal taco. I've tried a number of different kinds of sauces, but nothing can compare to Moore's marinates & sauces.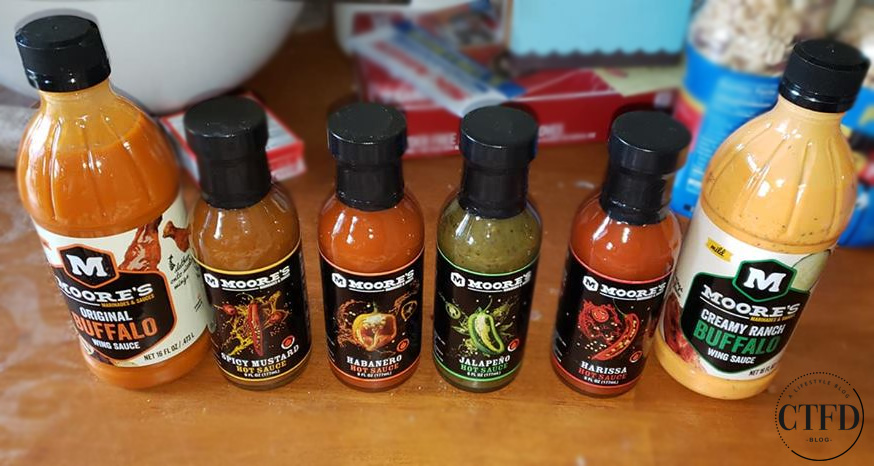 Now when it comes to sauces, the ideas are endless. I personally love buffalo sauce, my daughter doesn't like most flavors, but she actually liked the creamy ranch buffalo. So when I stumbled upon Moore's sauces and I couldn't turn down a reason to buy some wings and chicken. So I went to my local Harris Teeter for some meat. Lucky for me, it was Super Bowl weekend, so everything was on sale. Which that's a win-win!
While picking up some items I'll need for the buffalo ranch chicken street tacos, I saw that they sold Moore's sauces there. So that's awesome little fun fact to keep in mind for next time. I got this pack of wings for $4.00, yes please!
The creamy ranch buffalo is gluten-free and it's only mild heat, so safe for kids, less spicy than regular buffalo sauce. Original buffalo sauce is Gluten Free, Kosher, No MSG and the Cayenne brings the flavor.
As a bonus, let me share with you this totally tasty buffalo ranch chicken street tacos recipe with you, it's totally delicious and no way you can just eat one.
Here is everything you will need for these street tacos:
Bag of Shredded Cheese
3 Chicken Tenders
1 Avocados
Head of Lettuce (cheaper than a bag of shredded lettuce)
Container of Grape Tomatoes
Misson's Street Tacos Tortillas
Moore's Creamy Ranch Buffalo Sauce
You can either bake your chicken or cook it in a frying pan, I did mine in a pan, it was quicker that way. I cooked it in the sauce to give it more flavor.
I chopped up the lettuce head, avocado, and sliced the grape tomatoes in halves. They need to be bite sizes, remember the street taco fits in your hand.
Layers: lettuce, chicken, avocado, tomatoes, shredded cheese and added some ranch (because ranch is life).
Have you checked out Moore's Marinates & Sauces website yet? There's a $1 off coupon. I have to try some of their different sauces now.
What's your favorite type of tacos? Have you ever tried Moore's Marinate & Sauces?