Amazon deals + promo codes
Let me cut right to the point of this new series. Dedicated to random Amazon deals I find and want to share! If you haven't yet, check out my Amazon Storefront, where I have a lot of themed gift ideas! If you don't have an Amazon Prime account, use this link to sign up today for lots of great deals!
200 Sheets Transparent Sticky Notes | Code: 5072FWXS | $4.99
The approximate size for this self-adhesive memo is 3 x 2 inch, which is portable for you to store and carry. This colorful sticky note pad is designed with 4 different colors, enough for you to choose; You can also apply different colors to match with various occasions.
Transparent waterproof material, repositionable, reading stickies, mini trace paper, bookmarks. This transparent self-stick note is sturdy and firm for you to use a long time, not easily fade or wrinkle. With a smooth surface, it is soft and comfortable for you to touch.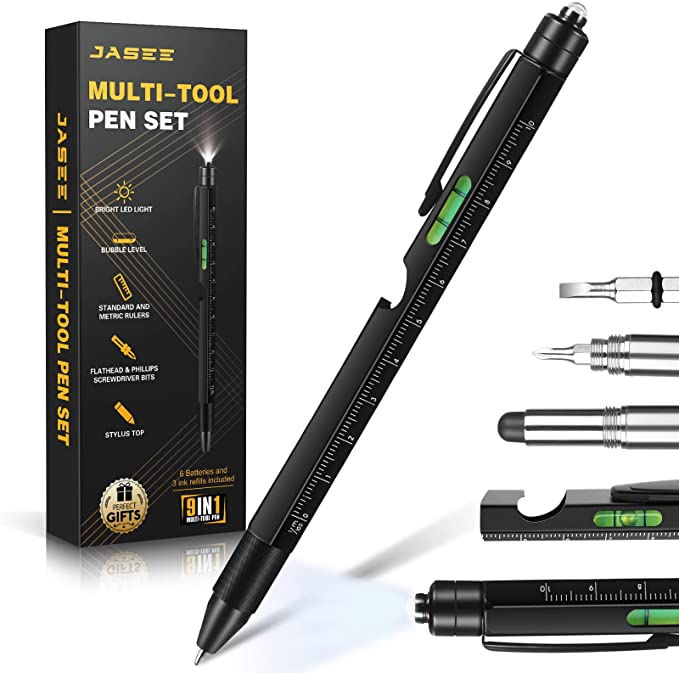 Multitool Pen | use code: 15MGWKMV | $4.84
Multi-Functional Pen has 9 handy functions. Led light, stylus top, retractable ballpoint pen, bubble leveler, bottle opener, Centimeters / Inches rulers, Flat / Phillips screwdriver.
The ultra-bright led light of the multitool pen helps you illuminate any cramped and dark spaces. Comes with an exquisite soft rubber tip, which can be compatible with capacitive touch screen devices.
Heavy Duty Double Sided Tape | use code: 729SJLU1| $6.44
Two sided tape heavy duty removable is made from acrylic Nano gel. We increased thickness to 2mm/0.08in, which is 3 times more stronger than regular adhesive tape.
Guaranteed to work with any smooth surface with heavy load up to 18lbs (1 pound per 4 inches). This heavy duty double sided tape works perfectly in temperatures range from 0℉ to 150℉.
12" Ring Light with Stand and Phone Holder | use code: 60Q5DHR6 | $17.60
No single element has the potential to improve the quality of your video than your lighting. Our ring light has 160 high-quality lamp beads, cold, neutral, warm three color and ten brightness. To make your skin and clothing present the best and most realistic state-something.
That makes them especially valuable for make-up and beauty vloggers and content creators. Besides, USB-powered design, you can run it from a power bank and use it anywhere
12 Pcs Long Pendant Necklace | use code: 15WPIHD4 | $10.42
12 different style and color, including simple bar necklace, feather, circles, tassels, triangles, leaves, locks, double-layer necklace and three-layer necklace. Wear them will show your personal charm, elegant, beautiful and attractive, perfect for everyday wearing.
This necklace set is made of high-quality alloy and environmentally friendly electroplating. It is lead-free nickel, hypoallergenic, lightweight, high rust resistance, strong, durable and not easy to fade.
Vinyl Siding Hangers | use code: 50JBEB13 | $3.45
manufactured from high grade # 304 Stainless Steel for years of tarnish resistant use, these No-Hole Hooks are designed to work on most vinyl siding, allowing you to hang decorative items without damaging the siding.
Comparing with other plastic or steel hangers, our products are more durable, rust-free and leave no stains on your siding.
2 Pack Silicone Body Scrubber | clip 50% off coupon | $4.99
Bath exfoliate brush is made of pure silicone, which is soft and long-lasting that it will not scratch the scalp and skin. Double-sided design, it is both a body scrubber and a hair shampoo brush. One brush can enjoy 2 functions. This stiff side brush can deeply clean your hair roots and remove dandruff, stimulate the blood circulation of the scalp. Whatever your hair is curly or straight, oil or dry, long or short.
<- put the amazon deals in the cart ->
If you add all 6 of these items to your Amazon shopping cart, you're saving over 50%. That's a deal, you can get multiples of the same item with the promo code too. I got a few transparent sticky note for work!
which of the following amazon deals did you get? Remember to share the blog with your friends!