Setting Goals with Family Workouts With Alex & Me | #CampWarnerBros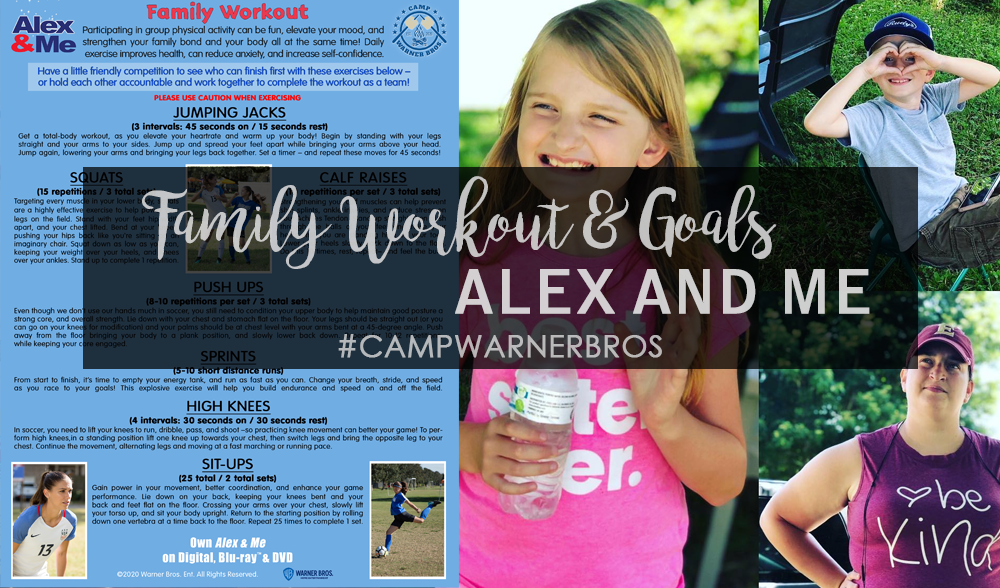 Last week we made penny banks with Teen Titans Go vs Teen Titans. This week we're Setting Goals with Family Workouts With Alex & Me. Did you make goals for 2020? Seems a bit crazy right now that we're almost 8 months in, it did seem longer than 8 months. I had a few goals I was able to do during quarantine for the most part.
About Alex & Me:
Teenager Reagan Willis has one dream – to play soccer like her hero, Alex Morgan. Her bedroom is a shrine to all things Alex, including a life-size poster of the Olympic gold medalist. Yet in the Willis house, Reagan lives in the shadow of her prep football superstar brother, Logan. When Reagan fails to make the cut of the premiere local soccer club team and is humiliated by her rival Claire, she's certain her ship has sailed. But after accidentally hitting her head, Reagan's poster of Alex Morgan suddenly comes to life and everything changes!
Summer is a great time for campers to think of their goals –  be it short term, or long term! In Alex & Me, Reagan (played by Siena Agudong ("Nicky, Ricky, Dicky & Dawn," and " Star Falls") uses a chart to keep track of her daily soccer drills as she progress towards her goals. This week at camp, we want to inspire our campers to follow their dreams and keep track of their personal goals with their Alex & Me Goal Chart – a great tool to motivate kids to strive to be their best:
In soccer, developing strength enables a player to better control his or her body when they are striking or heading the ball, making a save in a goal, or changing directions abruptly on the field. Participating in group physical activity can be fun, elevate your mood, and strengthen your body and bond with your team all at the same time!
It's time to put some water in your camp tumblers, grab your towels – and get ready to move your body, while bonding with your kiddos with this fun Alex & Me Family Workout. Please always use caution when exercising, and listen to your body. If something doesn't feel right – don't do it! Daily exercise improves health, can reduce anxiety, and increases self-confidence – and working together to get through this list as a team will make the whole family feel great!
Here's everything we have done for #CampWarnerBros so far this summer break!