comedian brandon rainwater case study
This is my case study for Comedian Brandon Rainwater. I've been working with Brandon over the last 3 years with a number of projects across the board from comedy events to flag football events. I have designed everything from his logo to his business cards and the merch on the website to his actual website. You can view his website & merch shop here.
about brandon rainwater
Brandon Rainwater gives you his take on parenting, different generations and other absurdities in life Brandon brings a sweet Southern flavor to his comedy. Always bringing his energetic comedy and diverse humor and random expression on the stage.
Brandon has also been seen on the big screen in the Netflix action movie Black Bear. He also had articles written on him on Time.com and yahoo.com as well as People Magazine. With a strong social media following of a million plus.
SERVICES PROVIDED:
Social Media Graphics (Banners & YouTube Thumbnails)
Flyers for Events (Comedy & Flag Football)
Logo Design
Setup & Manage Website + Merch Site
Web Design
Boost SEO on YouTube account
EPK Page (Digital & PDF)
YOUTUBE SEO & THUMBNAILS:
Brandon already had a solid following on YouTube, I was just fixing the SEO aspects of the account. By including hashtags, descriptions, titles, & thumbnails for the videos. The end goal is for the videos to be eye catching and get more followers.
FLYERS:
These flyers are a mix of Comedy flyers & Flag Football event flyers, but all created for Brandon.
brandon rainwater WEB DESIGN:
Brandon Rainwater's website feature pages include tour events, merch page & EPK (Media Kit) page.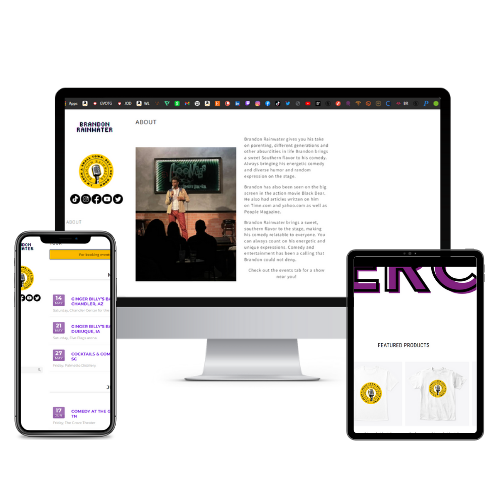 MERCH TSHIRT DESIGNS: